Home > India > News > First Look



Sonia Gandhi inaugurates Srinagar international airport

Mukhtar Ahmad In Srinagar | February 14, 2009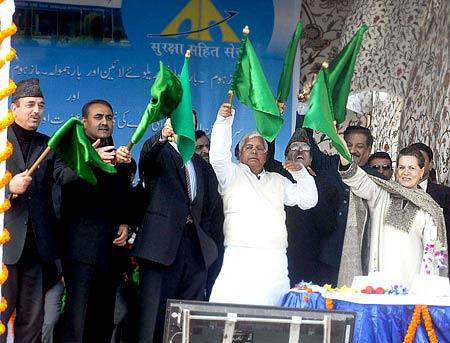 United Progressive Alliance [Images] chairperson, Sonia Gandhi [Images] said on Saturday that those believing in violence should learn a lesson from the faith the people of Jammu and Kashmir [Images] have in democracy.
Inaugurating the new terminal for the Srinagar [Images] international airport from where the first direct flight to Dubai [Images] was undertaken, Sonia Gandhi said, " The people of Jammu and Kashmir have shown their faith in democracy by an overwhelming participation in the recently held assembly elections in the state. This should be a lesson for those who believed in violence. They must also join the democratic process."
Gandhi also flagged off the train from central Kashmir's Mazhom rail station to Baramulla. The train will now run from south Kashmir Anantnag to north Kashmir Baramulla district. The UPA chairperson also said those "sowing the seeds of hatred among members of different communities in the country where not the well-wishers of the people at all."
She said the global economic crisis had not so much impacted India [Images] "because of the policies of the UPA government at the centre. "We have in fact provided relief to the people by reducing the prices of oil and LPG," she said.
She said the starting of the direct flights from Srinagar airport would help employment and also open new avenues of tourism for the state.
Civil aviation minister, Praful Patel [Images], union railway minister, Lalu Prasad Yadav [Images], union minister for water resources, Saif-ud-Din Soz, state chief minister Omar Abdullah [Images] and former chief ministers, Ghulam Nabi Azad [Images] and Dr. Farooq Abdullah [Images] where present at the inaugural function.
The new integrated terminal building having an area of 19700 square metres,  is made of glass and steel structure having modern passenger friendly facilities like a central heating system, central air conditioning, inline x-ray baggage inspection system integrated with the departure conveyor system. The airport also has inclined arrival baggage claim carousal,escalators, public address system, flight information display system, CCTV's for surveillance.
The airport apron has also been expanded to cater for the parking of 9 aircrafts from existing capacity of four. The airport will now handle 500 domestic passengers and 450 international passengers at a time.
In his message the prime minister, Dr.Manmohan Singh [Images] said that the prosperity of Jammu and Kashmir and it development was "very important to us. The two projects will go a long way in integrating Jammu and Kashmir with the country and the World, thus facilitating its economic development."
Sonia Gandhi later received the first international flight from Dubai which arrived at the newly refurbished Srinagar International airport.

Image: Sonia Gandhi, Lalu Yadav [Images], Ghaulam Nabi Azad and Praful Patel flag off the Train at Mazhom station.
Photograph: Umar Ganie