Home > India > News > First Look


Discuss |
Email |
Print | Get latest news on your desktop


Conservative Chennai gets lesbian helpline

Ganesh Nadar | February 08, 2009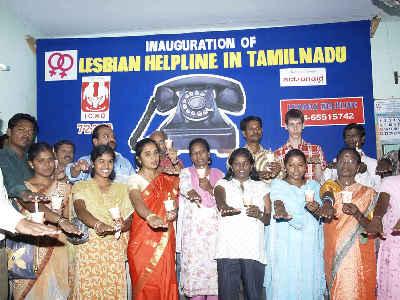 Conservative Chennai made history by inaugurating a helpline for lesbians.  The Indian Community Welfare Organisation - ICWO is a non-profitable  organization working in the field of STD/HIV /AIDS prevention among  high risk population since June 1994.

ICWO also works among vulnerable children to prevent them from being trafficked for sexual exploitation.
As part of the innovative efforts ICWO has launched a helpline for the  lesbians in Tamil Nadu. The first dedicated lesbian helpline in the city started ringing from 28th February 2009, 10 days ahead of its scheduled launch.
ICWO has been working with homosexuals for the past 10 years.found that there were lot of queries from the lesbian community hence they decided to start this helpline. 

The lesbian helpline aims to to stop violence, ill-treatment, remove the stigma and discrimination of lesbians and provide counseling services for them.
The ICWO expects that in 3 months, volunteers among lesbians will form informal groups depending on their interest. Volunteers from  the community will provide counseling services and handle the  helpline. The ICWO will facilitate community members to take up future  plans.

The ICWO is committed to provide technical assistances for the upcoming formal and informal lesbian groups. ICWO will take efforts like setting up campaigns and advocacy. They will also identify  collaborating agencies with similar interest.
The ICWO inaugurated the lesbian help line on 7th February 2009. Counseling services will be provided through the telephone. The  helpline is 044 65515742, will function from 0900 hrs to 1800 hrs on all workings days.
The founder of ICWO A J Hariharan [Images] told rediff.com "Action Aid which is in  60 countries and based in South Africa [Images]. is providing technical help to set up communities among lesbians so that the members can help each  other and more importantly provide moral support. In spite of being formally inaugurated only two days back we are already getting 70 calls a day. Even in the trial period of ten days we got 50-60 calls a day.And as for HIV prevention which is our main work, lesbians have nothing to fear unlike gays who are considered a risk group.The stigma against same-sex partnership is frowned up on by our society. We are fighting that discrimination and stigma. It is just an orientation and not a disease, they are not criminals and thus should be treated with love and not scorn."
Esther Maria Selvam program manager of Action Aid in Chennai said,  "ICWO will be getting these girls together. We will conduct workshops  and counseling to help them. We have professionally qualified social  workers who will do the job with sensitivity".

Image: The inaugration of a the helpline in Chennai.
Photograph: ICWO