Home > India > News > First Look



26/11 case: Anjali Waghmare will represent Kasab

April 01, 2009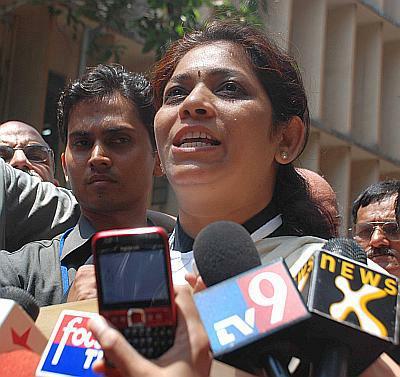 A day after seeking time to consider appearing in the 26/11 attacks trial, advocate Anjali Waghmare on Wednesday informed a special court that she was willing to represent arrested terrorist Mohammed Ajmal Amir Kasab [Images].
Waghmare had on Tuesday asked the court for a day to think over whether she wanted to represent Kasab following protests by Shiv Sena [Images] activists outside her residence in Worli after she was appointed defence counsel by the special court.
She had also given a letter to Sena activists on Monday apologising for taking up the representation of Kasab and said she would withdraw from the case.
Special judge M L Tahiliyani today asked Waghmare if she had any problem with continuing as defence counsel for Kasab, a resident of Faridkot in Pakistan.
"No, I will continue with the case," Waghmare said.

The court then appointed advocate K P Pawar, also an advocate from the Maharashtra Legal Services Authority, to assist her in the case.
Judge Tahiliyani said that adequate security had been provided for Waghmare, who along with Pawar, will appear for Kasab for the trial which is scheduled to begin on April 6.
Following her appearance in court, Waghmare said she was willing to appear in the trial as long as she was provided adequate security.
"As long as the govt is providing me with adequate security I do not have problem with appearing in this case. I am emotionally stressed, I understand the sensitivity of the case and look forward for a fair and speedy trial," Waghmare said.
The lawyer said she had received immense support from her family and had not anticipated the attack from the Shiv Sena.

"I am also an Indian citizen and am doing everything for this country," she said.
Waghmare, an advocate with the Maharashtra legal aid, had been appointed by the court on Monday after Kasab said he had no objection to a government-appointed lawyer representing him.

The trial is scheduled to begin in a high-security court located in the premises of the Arthur Road jail in central Mumbai [Images] on April 6.
Kasab and two others will face trial for their alleged involvement in the November 26 Mumbai terror strikes in which over 160 persons were killed.

Image: Anjali Waghmare addressing media persons in Mumbai.
Photograph: Arun Patil