September 30, 2008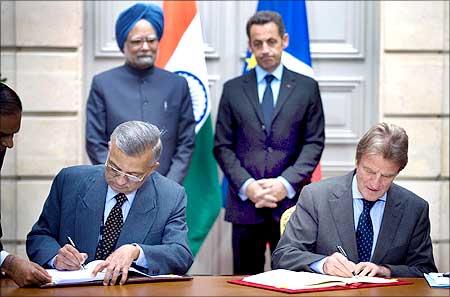 India and France [Images] on Tuesday signed a landmark Agreement on development of civil nuclear cooperation, giving a new impetus to cooperation in development of nuclear energy for peaceful purposes as an expression of their strategic partnership.
'N-pact adds new dimension to ties'
The agreement will form the basis of wide-ranging bilateral cooperation from basic and applied research to full civil nuclear cooperation, including reactors, nuclear fuel supply, nuclear safety, radiation and environment protection and nuclear fuel cycle management, officials said.

The two sides also signed a Social Security Agreement and a pact for cooperation in space technology.

The nuclear agreement and the social security pacts were signed after the Summit meeting between Prime Minister Manmohan Singh [Images] and French President Nicholas Sarkozy at the Elysee Palace in Paris on Tuesday.
'India values its nuclear partnership with France, Russia'
The civil nuclear cooperation agreement recognizes that as a reliable source of sustainable and non-polluting energy, it could make a significant contribution to meeting the global challenge of achieving energy security, sustainable development, economic growth and limiting climate change.

As responsible states with advanced nuclear technologies, including in the nuclear fuel cycle, the two countries are interested to promote nuclear energy with the highest standards of safety and security and in accordance with their respective nuclear policies and international obligations.
France backs India's inclusion in G-8
"India and France share common concerns and objectives in the field of non-proliferation of weapons of mass destruction and their means of delivery including in view of possible linkages to terrorism," the officials said.

Building on their ongoing decades-old cooperation in the fields of fundamental and applied research, and nuclear safety, it was agreed to broaden and boost this partnership.

"Towards this end, a 'Co-operation Agreement between the Government of the Republic of India and the Government of the French Republic on the Development of Peaceful Uses of Nuclear Energy' was signed on 30th September 2008," the officials added.

Image: French Foreign Affairs minister Bernard Kouchner (Right) and India's Atomic Energy Commission Chairman Anil Kakodkar sign a cooperation agreement between France and India for the development of civilian nuclear technology as France's President Nicolas Sarkozy and Indian Prime Minister Manmohan Singh look on at the Elysee Palace in Paris.
Photograph: Philippe Wojazer/AFP/Getty Images