Home > India > News > First Look


Discuss |
Email |
Print | Get latest news on your desktop


We hope US Congress clears N-deal soon: PM

September 26, 2008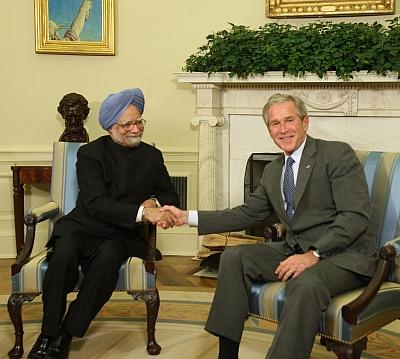 India on Thursday expressed hope that the nuclear apartheid the country has been facing since the last 34 years will come to an end soon.
We want the agreement to satisfy you, Bush to PM
Prime Minister Manmohan Singh [Images], in his remarks after discussions with US President George W Bush [Images], said "For 34 years, India has suffered from a nuclear apartheid. We have not been able to trade in nuclear material, nuclear reactors, nuclear raw materials. And when this restrictive regime ends, I think a great deal of credit will go to President Bush."
Further, the prime minister hoped that the Indo-US nuclear agreement, which is now before the US Congress, will be approved in a manner that will be satisfactory from the point of view of both the nations.
Bush admn can live with N-deal critic Berman's bill
Asserting that Indo-US relations had undergone a 'massive transformation', Dr Singh said: "Mr President (Bush), you have played the most important role in making all this happen. Our ties have grown through our cooperation with regard to civil nuclear energy. I know these are difficult issues, and at each stage it was your leadership, your personal intervention, which resolved all the difficulties that were affecting the progress of these negotiations."
He also highlighted the other areas of cooperation, including trade, education, science and technology, between the two nations.
Why India is upset with George W Bush & Co
Hailing President Bush's commitment to build a strategic partnership with India, the prime minister said, "India is a functioning democracy, and I know how much President Bush appreciates that fact, that a country of a billion people with tremendous poverty, with all the diversities of the world, is yet trying to find its economic and social salvation in the framework of a functioning democracy. We have discussed this aspect of India's functioning several times, and he has shown enormous respect for India and Indian democracy."

Image: US President George W Bush with Prime Minister Manmohan Singh in the Oval Office of the White House.
Photograph: Jay Mandal/On Assignment