Home > India > News > First Look


Discuss |
Email |
Print | Get latest news on your desktop


US social service groups to aid healthcare in India

A Correspondent | September 16, 2008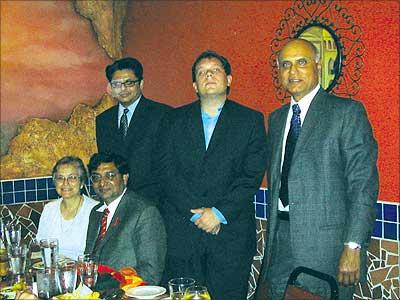 Three social service groups in Chicago launched the Chicago India-United States Global Health Consortium to run healthcare programmes in India and elsewhere.
The three groups that pooled resources for the Consortium were the Share/International Center for Human Health Advancement, the Care and Share Foundation, and the Ribbon Foundation. The Consortium will help "start a united platform to share resources to serve the people of India better," said spokesperson Sam Siddiqi.
"Overcoming tendencies to pursue individual group goals is not always easy, but three experienced Chicago area foundations have decided it is not hard, compared to their usual work supporting development and health programmes in India," he said.
The organisations will sponsor a dinner programme on September 20 at Waterford Banquets, Elmhurst, Illinois, to "honour individuals who have made outstanding contributions to the cause of human health advancement," he added.
Teresita C Schaffer, director of the South Asia Programme at the Centre for Strategic and International Studies and a former deputy assistant secretary of state for South Asia affairs, will be the chief guest, Siddiqi said.
Chicago-based band Funkadesi will perform at the dinner. This is the Consortium's first fundraising event, said Siddiqi, chief executive officer, Zezan Data Centre, and member of the board of directors of Share/ICHHA.
Prior to the dinner, a three-hour symposium will be organised with support from the University of Illinois to discuss public healthcare in India, he added.
"We've been successfully raising and providing support to organisations in the US and in South Asia, where people are facing the challenges of poverty, disaster, homelessness, and ill health for many years," said Dr Firdaus Jafri, president, Care and Share Foundation.
"Members of our community appreciate the opportunity to learn about and contribute to such charitable activities. Surely, our work can have even greater impact when we collaborate with others with similar goals," he added.
"Partnerships among people of all nations and all disciplines is what enables global progress to reach to the rural and underserved areas of the world," according to Dr Vijay Yeldandi, an infectious disease specialist in Chicago and secretary general of Share/ICHHA.
His organisation provides medical care, research, education, and outreach in the city of Hyderabad and in rural areas of Andhra Pradesh, while providing public health leadership training for professionals from India, the United States, and other nations.
"South Asian individuals and the professional and business community are generous when it comes to giving back to our homelands and responding to needs in our adopted home in the US," said Dr Manohar Jethani, founder of The Ribbon Foundation. "Why should we not multiply our efforts, by working together for efficiency and impact, since we have the entire community by our side in this work?"
Dr Jethani has been raising funds for healthcare and disaster relief, focusing on HIV/AIDS treatment.
Image: Linda Groetzinger, Share/ICHHA board member, left, and Dr Vijay Yeldandi, secretary general; standing, from left: Sami Siddiqi, Washington Times health reporter Paul Banks, and Dr Manohar Jethan.