September 13, 2008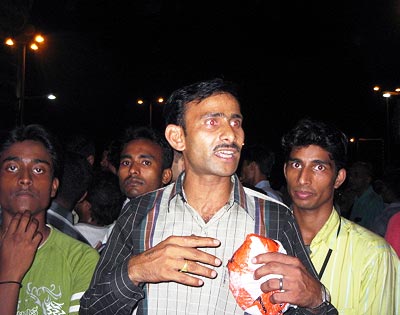 Another time, another street. Blood is again flowing on the streets of India, among the wreckage of bomb blasts.
But this street is no ordinary one. It is Barakhambha Road, one of the most important roads in New Delhi [Images]. It is just 15 minutes from the Indian Parliament.
Ashok Yadav, who works at one of the high-rise buildings here, told rediff.com with fear writ large in his eyes and trembling fingers, "Madam, dimag abhi bhi gol gol ghum raha hai. (my head is still reeling)."
"Today at 7 pm, I punched my card and left office. I crossed the road to wait for the bus. At 7.05 pm, suddenly there was a huge blast in a dustbin five feet away. There was a sadhu in saffron clothes near the dustbin, with a kamadhal. Once the smoke from the blasts cleared, I could see that the sadhu had collapsed on the road. He was dead."
As Yadav narrates the story you can sense that beneath the panic he is relieved that he is still alive. He says, "My bus arrived but I did not board it because I was too dazed by the deafening noise. Just before the blasts, two ladies stopped a three-wheeler. Before they could get in, the blast occurred. One lady's leg was badly injured and she fell down on the road."
"I was motionless for a moment. But, I stopped another rickshaw and put both the ladies in it. I shouted at the driver to take them to Ram Manohar Lohia Hospital. Thank God, he did."
Yadav was still standing at the site and talking to the police, media and onlookers. He just kept repeating the story because he was afraid. Maybe, he just wants to make sure he is still alive because he was only five feet away from death.
Image: Ashok Yadav
Photograph: Sheela Bhatt