September 13, 2008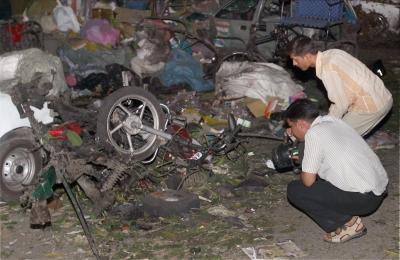 Five blasts rocked New Delhi [Images] on Saturday evening, killing 21 persons and injuring over 90 persons, according to Delhi Police Commissioner Yudhvir Singh Dhadwal.
The Indian Mujahideen [Images], the shadow amalgam of the banned Students Islamic Movement of India and Lashker-e-Taiba, claimed responsibility for the serial blasts through an email sent to news organisations at almost the same time as the serial blasts.
Two people were detained from Connaught Place area soon after the blasts.
The blasts at Ghaffar market in Karol Bagh, at Connaught Place and Greater Kailash took place in quick succession, the police said.
The first blast took place at Ghaffar market in which at least 20 people were injured. They were rushed to the nearby Ram Manohar Lohia Hospital.
Immediately after that, two explosions took place in Connaught Place, in which at least 10 people were injured.
Another explosion rocked M-Block market in Greater Kailash-I.
The first blast took place at 6:30 pm. The bomb was placed in a dustbin in a parking lot outside Grover's Enterprises, a local shop. The blast caused panic among the shoppers and the shopkeepers downed their shutters.
The second blast occurred 10 minutes later at the Prince Paan shop. The second blast was a higher intensity blast than the rest.
 "These are low intensity blasts which appear to be designed to cause mischief rather than loss of life," said Deputy Commissioner of Police (South) H G S Dhaliwal
The impact of the blasts in Karol Bagh could be gauged by the fact that an auto was thrown up and got caught in the electrical wires.
In Ghaffar market, the explosive was believed to have been kept near a Maruti [Get Quote] car. Several vehicles were badly damaged due to the impact of the blast.
In Barakhamba Road, one of the bombs was suspected to be placed near Nirmal tower. The second blast in CP took place near Gopal Das Bhavan and the third one in central park. At least eight people were injured in these two blasts.
The Union government was warned by Gujarat Chief Minister Narendra Modi [Images] that New Delhi could be the next target of the terrorists.
Interrogation of those arrested by the Gujarat police in connection with the Ahmedabad [Images] and Surat [Images] blasts had revealed that the national capital was on the radar of the Students Islamic Movement of India.
The phone lines in Connaught Place have been jammed and the metro rail services have been stopped.
Meanwhile, three live bombs were recovered in the national capital, one near India Gate and two at Connaught Place, said the police.
The next-of-kin of  the victims will be given a compensation of Rs eight lakh--Rs five lakh by the Delhi government and Rs three lakh by the Centre.
      

Image: Connaught Place after the blast.