Home > India > News > First Look


Discuss |
Email |
Print | Get latest news on your desktop


I don't oppose Chhat puja, but the political tamasha: Raj

October 31, 2008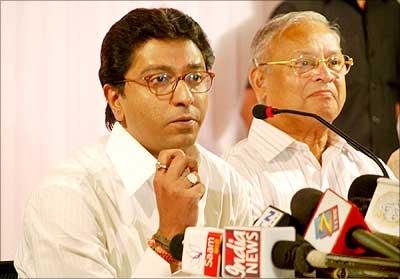 Under attack for his campaign against north Indians, Maharashtra Navnirman Sena chief Raj Thackeray [Images] on Friday softened his stand on Chhat puja, saying that he was not opposed to the festival being celebrated in Maharashtra but warned against it being used as a show of political strength.
"I have never opposed Chhat Puja but only spoke against political 'tamasha' (stunt) associated with it. People from Bihar who live here can perform the religious rituals according to the customs. My party has never opposed it," he told media persons in Mumbai.
The MNS chief, whose detention under National Security Act has been demanded by some Union ministers in the wake of attacks on north Indians in Maharashtra, warned that he would not tolerate disregard of the Marathi speaking people in the state.
The Chhat festival will be celebrated on November 4.
 
Thackeray also asked his supporters to exercise restraint and accused the media of distorting his views and spreading falsehood.
Justifying the killing of a youth who had hijacked a bus in Mumbai, he said the police action was 'proper' as no one knew from which state the youth came from.
"What if he had shot some commuters, then you people would have taken the police to task," he said.
Thackeray also downplayed the killing of a youth in a suburban train during a brawl with a group of youngsters.

"Even the Railway police are saying that there has been no involvement of any political party," he said.
Besides, he recalled that in an incident sometime back, four Marathi youths where thrown out on tracks by a group of people from other states. "But no one said a word about the incident," he said.
Thackeray criticised the Maharashtra government and Chief Minister Vilasrao Deshmukh for withdrawing his security and termed the move as 'political vendetta'.
"I had not asked for security in the first place. But, now it has been withdrawn which is clearly political vendetta. The government keeps changing and even I will have a chance tomorrow," he said.
"There is a state-level committee, which decides on security according to threat perception and not on the number of cases against the person. After the Babri mosque demolition in 1992, security of political leaders against whom cases had been registered was also increased," he said.
 
Thackeray also ridiculed demands to book him under the NSA.
"When Lalu (Prasad) was the chief minister of Bihar, there were 1,200 murders. But, there was no demand to book him under NSA. When Biharis were killed in Assam, there was no uproar," he said.
"A Goan minister opposed starting of Goa-Bihar railway by saying that the state did not want more beggars. Delhi [Images] Chief Minister Sheila Dixit also spoke against people of Bihar and UP. But, only when Raj Thackeray speaks, there is a nationwide uproar and Prime Minister has to intervene."
Lashing out at Deshmukh, Thackeray said he had no expectations from him.

"What can you expect from people whose political survival is at the mercy of Delhi," he asked.
The MNS chief also said that he would not allow anybody to harm 'Marathi identity'.
"Political rivals who do not see eye-to-eye on several issues come together. But, it is also very unfortunate that 48 MPs from Maharashtra are mute spectators," he said, referring to the delegation of Bihar politicians meeting Prime Minister Manmohan Singh [Images].
Image: Raj Thackeray at the press conference in Mumbai.
Reportage: PTI | Photograph: Arun Patil 
Also Read:
Raj Thackeray's stance okay, not methods: Rane
Withdrawing my security was a foolish act: Raj Thackeray
Raj Thackeray a mental case, ban MNS: Lalu Prasad
Raj Thackeray should revisit his past
Raj's politics is regional terrorism, says Centre