Home > India > News > First Look


Discuss |
Email |
Print | Get latest news on your desktop


61 killed in serial blasts across Assam

K Anurag in Guwahati | October 30, 2008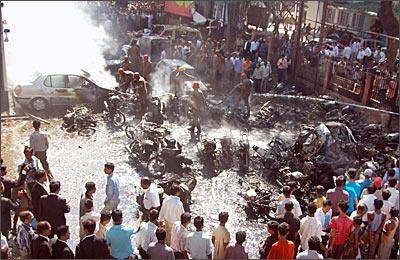 In one of the worst ever terror strikes in the country, at least 61 persons were killed and over 300 injured, when  unidentified terrorists detonated 11 bombs in four districts--Kamrup (Guwahati city), Kokrajhar, Bongaigaon, Barpeta--of Assam at around 1130 hours on Thursday.
According to official reports received so far, 29 persons were killed and 150 injured in 5 blasts around Guwahati city--at Ganeshguri near the state capital complex at Dispur, near the office of the Kamrup district deputy commissioner and in front of Panbazar Police station located near Fancy Bazar market.
Curfew was clamped in the Guwahati following the blasts  after angry mobs set fire to several police and fire services vehicles near the blast site at Ganeshguri market and along the arterial Guwahati-Shillong road. The blast site is one kilometer away from the chief minister's office in the state capital complex at Dispur
Official sources informed that Prime Minister Manmohan Singh [Images] who has cut short his visit to Maharashtra on hearing about the blasts in Guwahati, would come to Assam to take stock of the situation. Dr Singh represents Assam in Rajya Sabha.
Most devastating were the twin blasts in the Ganeshguri area in front of the vegetable market and below the fly-over where at least 12 persons were killed on the spot and over 100 injured. One of the bomb was suspected to be planted in an van. The blasts triggered a devastating fire at the car parking below the fly over in Ganeshguri gutting at least 15 vehicles before fire tenders could put out the blaze.
At least ten persons were killed, in the blast that rocked the parking area between Kamrup district deputy commissioner's office and chief judicial magistrate's court at Panbazar in the heart of the city. The bomb was planted in a Maruti [Get Quote] 800 car that sparked a fire in the parking lot burning a large number of vehicles.
Three persons were killed and many injured in the twin blasts in front of Pan Bazar police station near Fancy Bazar. The bombs were suspected to be planted in a Maruti van.
The chief minister Tarun Gogoi has convened an emergency cabinet meeting on Thursday afternoon in the wake of the blasts even as the Central government has decided to rush additional forces to Assam, according to official sources in Guwahati.
At least 17 persons were killed in three simultaneous blasts in Kokrajhar town in western Assam and 12 more persons were killed in two blasts at Barpeta Road market areas in Barpeta district of Lower Assam. Over ten persons were injured in a blast in Bongaigoan town in Bongaigaon district where the bomb exploded while the police were trying to defuse it.
Image: Firemen extinguish the fire after the serial blasts in Guwahati on Thursday.
Photograph: PTI Photo