Home > India > News > First Look


Email |
Print | Get latest news on your desktop


Rice arrives in Delhi, won't sign 123 pact

October 04, 2008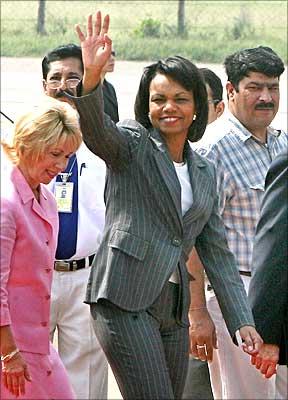 US Secretary of State Condoleezza Rice [Images] arrived in Delhi [Images] on Saturday on a day-long visit, but the 123 agreement will not be signed during her stay here.
Rice will meet Prime Minister Manmohan Singh [Images] and hold talks with External Affairs Minister Pranab Mukherjee on a wide range of issues, including the civil nuclear initiative.
The two sides had initially earmarked 2 pm as the tentative time for signing of the 123 agreement, but procedural issues like delay in US President George W Bush [Images] signing the legislation passed by the Congress into law, forced the signing of the deal to be called off.
India wants to see Bush first sign the legislation into law as it expects the US president's accompanying statement to clarify certain aspects, particularly assurance of fuel supply, that have created apprehensions here.
The US side, which was keen to sign the agreement during this visit, has said that it was not necessary for Bush to sign the legislation before the two countries ink the agreement and that he can do so later also.
Rice and Mukherjee will also discuss trade and counter-terrorism besides issues related to the region.
Rice will also meet Bharatiya Janata Party leader Lal Kishenchand Advani [Images].
Image: US Secretary of State Condoleezza Rice waves upon her arrival at Indira Gandhi [Images] International Airport in New Delhi on Saturday.
Photograph: Raveendran/AFP/Getty Images
Read More:
Indo-US Nuke Tango