Home > India > News > First Look


Discuss |
Email |
Print | Get latest news on your desktop


TN couple wins Alternative Nobel Prize

Rajaneesh Vilakudy | October 01, 2008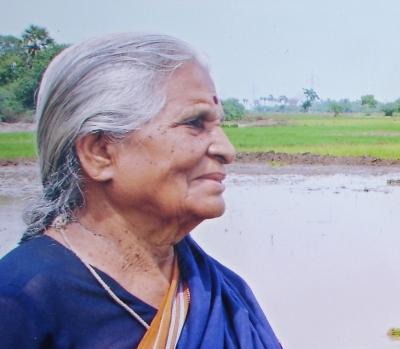 Amid talks of a Nobel Prize in Economics coming home, an old couple from Tamil Nadu has bagged this year's Alternative Nobel Prize [Images].
Called the Indian Sarvodaya couple, Krishnammal and Sankaralingam Jagannathan from Nagapattinam are among the four illustrious personalities to share the prestigious Right to Livelihood Award -- also known as the Alternative Nobel.
The couple and their organisation, Land for The Tillers Freedom (LAFTI), will share $ 290,000 award with a US journalist, a German gynaecologist and a Somali, the website for the Right for Livelihood said.   
Talking exclusively to rediff.com from Kuthur, a tiny hamlet in Tamil Nadu, where the old couple reside, Krishnammal said, "We are happy. Our initiatives are being rewarded. It is a big award, but Padma Shree is bigger. It is an honor by the Indian Government, which we savour for our lifetime."
Awards are nothing new for the couple. Only this year earlier did they receive Seattle University's Opus Prize. Way back in 1989, the nation honoured them with Padma Shree.
Describing them as India's Soul, the Right to Livelihood Award panel said the feat was "for two long lifetimes of work dedicated to realising in practice the Gandhian vision of social justice and sustainable human development".
Krishnammal is all set to travel to the US to collect the Opus Prize in November. A month later, she will travel to Sweden to collect the Alternative Nobel on December 8, two days before the Nobel Prizes are conferred.
Talking about Sankaralingam, she said, "He is 95. His has been life full of struggles, including the fight for Independence. Now he is talking rest. He is too old to accompany me. So I will go and collect the prizes along with two of my assistants."  
Inspired by the late Vinoba Bhave, the couple started LAFTI to bring the landlords and landless poor to the negotiating table and obtain loans to enable the landless to buy land at reasonable price.
Years have gone by, age has caught up, yet it is the spirit that keeps them going.
The Alternative Nobel is just another crown in their thorny way.
Image:  Krishnammal Sankaralingam
Photograph Courtesy:  Right to Livelihood Award website.