Home > India > News > First Look


Discuss |
Email |
Print | Get latest news on your desktop


He did not realise he was shot

Patcy N in Mumbai | November 27, 2008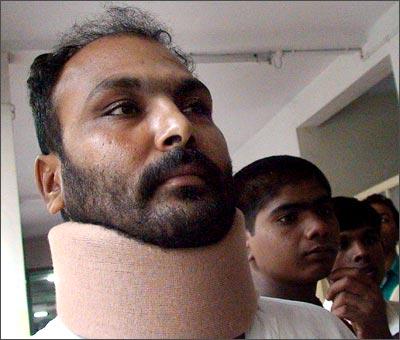 Sadhashiv Khole is not a regular commuter using the CST station. But on Wednesday he had to go to the station to drop a friend, who was on his way to Kolhapur.
Sadashiv dropped his friend and was walking out. He heard a noise and next thing he knew a bullet had hit him in the neck. Not knowing what was going on and after looking at blood oozing from his neck he ran to the nearby Sanjeevani Hospital.
Sadashiv was not admitted as he had a bullet injury. He came out of the hospital and realized for the first time that a massive terror attack was happening and people were running helter-skelter.
As Sadhashiv was at Sanjeevani Hospital that he will have to go to GT Hospital he started walking towards the hospital but a policeman grabbed him and sent him along with few other injured people and dead bodies to GT hospital.
Sadhashiv had passed out by now. Police personnel after checking his purse and other belonging got the telephone number of his village house.
After his family members received the call at his native place, they informed a few the people in Mumbai who are from the same village to check on Sadashiv.
Sadashiv has been shifted to JJ Hospital and he is stable and can walk and talk very softly.
Photograph: Reuben N V