Home > India > News > First Look


Discuss |
Email |
Print | Get latest news on your desktop


Image: Where the terrorists struck in Mumbai

November 27, 2008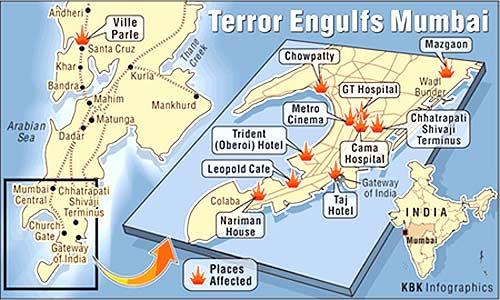 The staccato burst of gunfire at the Chhatrapati Shivaji Terminus [Images] in Mumbai at 9.21 pm on Wednesday night hardly gave an inkling of the shape of things to come up in the next two to three hours.
Giving a blow-by-blow account of the terror strikes, Special Secretary (Internal Security) in the Home Ministry, M L Kumawat today said the next firing occurred at Leopold Cafe [Images] at 9:48 pm, followed by a similar incident at Hotel Oberoi at 9:57 hrs.
The terrorists then struck Hotel Taj at 10:03 pm, Colaba at 10:25 pm, the Times of India building at 10:50 pm, the Bombay Municipal Corporation at 10:51 pm and Memosis Building at 10:54 pm, he said.
Kumawat said the terrorists attacked Cama Hospital at 10:59 pm, GT Hospital at 11:19 pm and Head Office Gate No. 6 at 12:07 am.
They then struck State Bank of India [Get Quote] at 12:29 am and Vidhan Bhavan at 12:32 hrs. The grenade attacks were carried out at Mazgaon, the Bombay Port Trust colony, Hotel Oberoi, Colaba market, Panchpayari, Cama Hospital, Nehru Road, N B Highway and Free Press Road, he said.
The terrorists were challenged by security men near the CST railway station.
One terrorist was killed and another nabbed near the Metro Cinema junction. Five other terrorists were killed -- two each at Taj Hotel and Chowpatty and one at Nariman House, he added.
Image: KBK Graphics
Groups behind attacks based outside India: PM
 'Terrorists highly-trained and motivated'
Terrorists came in boats: Home ministry