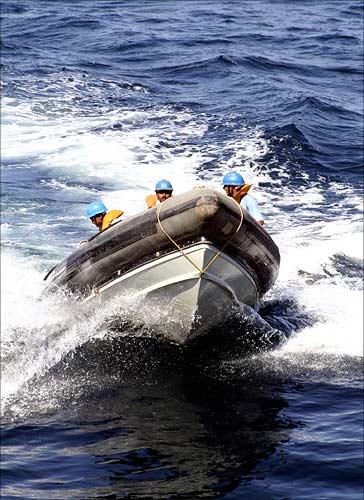 The Marine Commandos or MARCOS are the Indian Navy's elite special forces.
"They are trained for operations on air, land and sea," says a naval officer, speaking on condition that he would not be identified for this report.
The men who are selected as MARCOs are amongst the fittest officers and sailors of the Indian Navy. Like the British SAS and the US Green Berets, these are highly trained commandos.
"They are selected when they are young, in the early 20s and have to go through a very stringent selection process and training. The training is a continuous process," says the officer.
They train along with the Special Forces officers of the Indian Army [Images] like the Para Commandos at the Commando Training School, in various other agencies and within the Navy.
They are skilled combat divers and parachutists. Most of the training deals with counter-terrorist operations, also with anti-hijacking/piracy operations.
"It is a real tough and very promising job," says a Special Forces officer of the Indian Army who has fought terrorists in Jammu and Kashmir [Images], "They are well trained and highly professional."
MARCOS are known to be very secretive, not revealing their actual identity as specialised, elite soldiers. They are distributed amongst the naval bases of Mumbai, Kochi and Vizag, and, according to an unconfirmed source, number around 2,000. In their operations they are sometimes assisted by Sea King and Chetak helicopters and two-man submarines.
Their training is conducted over a two-year course. It is said that by the end of training only 10 to 25 per cent of the soldiers make the mark.
In the past they have fought against the Liberation Tigers of Tamil Eeelam as part of the Indian Peace Keeping Force, against Pakistan during the Kargil [Images] War and a few days ago against Somali pirates in the Gulf of Aden.
Image: Naval commandos plough through the sea during a mock drill off the Porbandar coast, December 7, 2006. The demonstration was part of the Indian Navy Week celebrations. Photograph: Sam Panthaky/AFP/Getty Images