Home > India > News > First Look


Discuss |
Email |
Print | Get latest news on your desktop


Navy should pursue pirates, says Stolt Valor captain

November 25, 2008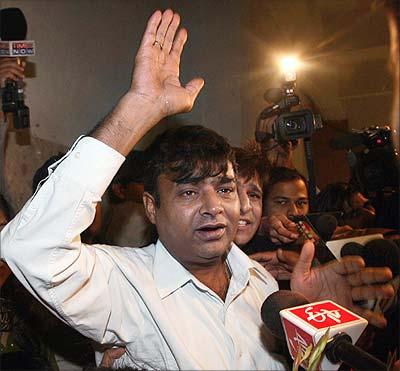 Expressing gratitude to the media and the government for the release of merchant ship Stolt Valor, its captain Prabhat Goyal said on Tuesday that the Indian Navy should engage in "hot pursuit" to deal with pirates.


            Stolt Valor crew return to India


"The Somali pirates have influence over 500 to 600 nautical miles in that area (the Gulf of Aden). Hot pursuit is the word... which only our Navy can do," Goyal told media-persons in New Delhi [Images].

The captain said he was aware of the Indian Navy's INS Tabar sinking a pirate ship last week.


            INS Tabar sinks Somali pirate ship

Reiterating his stand, Goyal said, "I don't suggest but demand on behalf of mariners that navy should sanitise the area." He said that there was no guarantee of safety of ships moving in the waters near Somalia. "There is no law there. Nothing works. We are on our own," he said.
Goyal said merchant navy crew was not trained for combat. "At the most we can use a broomstick or something to defend ourselves. We are not trained to handle a gun."
The Stolt Valor had followed the recommended corridor while sailing in the high seas and yet fell victim to hijackers.
The crew members maintained that once the hijackers are on board all forces become nearly helpless as rescue operation is too risky. "We called the coalition forces and the Navy soon after the hijacking but nothing worked," Goyal said, adding, "as such, prevention is better than cure,".

Goyal and his men feel some combat training can be made a part of the merchant navy course. Profusely thanking the media for giving huge attention to the incident, Goyal said the Indian government and Maritime unions had done their bit to rescue them.

Image: Captain Prakash Goyal of the MV Stolt Valor at IGI Airport in New Delhi on Tuesday.
Photograph: PTI Photo by Atul Yadav