November 24, 2008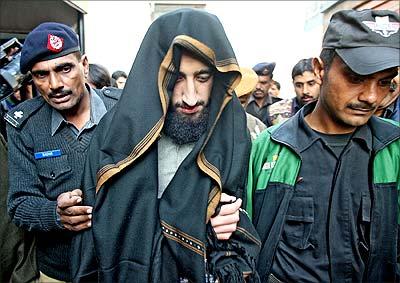 A top Member of Parliament in the UK has asked if the government knew about the US missile strike in Pakistan which killed an on-the-run militant from the UK.
Media reports said that Conservative MP Patrick Mercer alleged that Rashid Rauf was killed by the US forces in North Waziristan. The killing, the MP said, violated the UK's human rights laws, which never allows the country to deport terror suspects, fearing death penalty or torture in their respective countries.
Describing the incident as a blot in the country's human rights record, he sought clear-cut rules in the counter-terror operations.
"This is a very serious matter, particularly if the attack was based on intelligence provided by the British security agencies," he told the Sunday Times.
The MP said, "Ultimately, it  led to the execution of a British subject."
Rauf was killed along with another top Arab al Qaeda commander Abu Al-Asr Al Misri and three militants when two missiles fired by a US drone scored a direct hit at the house of the local Taliban [Images] commander in Alikhel village.
Rauf is a relative of Maulana Masood Azhar, leader of the Pakistan-based militant group Jaish-e-Muhammad, who was released in exchange for the hijacked Indian Airlines plane in Kandhar in Afghanistan in December 1999.
Rauf escaped from Pakistani police custody in December 2007, while being in the process of being extradited to the United Kingdom to face trial.
A day after Rauf's arrest in 2006, a worldwide security alert was sounded and 24-30 suspects were detained in a major swoop. His arrest also prompted a massive security alert on London's [Images] Heathrow airport, leading to mass cancellation of flights for several days for fear of terror attack.
Rauf was arrested by Pakistani intelligence in the city of Bahawalpur in August 2006. US intelligence described him as 'the planner of the (foiled airline) attacks who recruited people to take part in the plot. He was awaiting a decision on whether he would be extradited to Britain before his escape'.
Rauf's father-in-law runs the radical Darul Uloom Madina, one of Pakistan's largest radical religious seminaries.
Tayib Rauf, Rashid's brother, was arrested in Britain for his involvement with the London airline plot along with 22 other suspects. The British government froze Tayib and 18 other suspect's bank accounts.
Rauf's case has always been shrouded in mystery.
Now, even his death remains a mystery. 
Image: A file photograph of Rashid Rauf being escorted by commandos on the way to his court appearance in Rawalpindi in 2006.
Photograph: AFP/Getty Images