November 20, 2008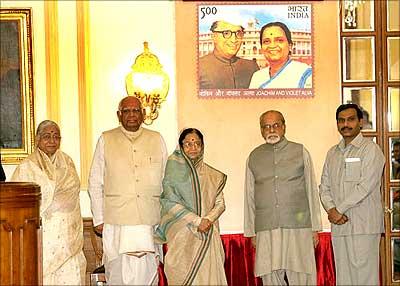 A commemorative stamp of late Joachim and Violet Alva was released by President Pratibha Patil [Images] in New Delhi [Images] today, coinciding with the birth centenary year of the couple.
Patil also released the first day cover in memory of the freedom-fighter couple at a ceremony attended by Speaker Somnath Chatterjee [Images], Himachal Pradesh [Images] Governor Prabha Rau, Communications Minister A Raja, former Prime Minister I K Gujral, family and friends of Violet and Joachim Alva. (See the picture)
"Joachim and Violet Alva had inspired a whole generation of patriotic Indians. By agreeing to release the stamp to mark their centenaries, the President had honoured their memory and their lives of struggle and sacrifice," said Congress leader Margaret Alva, their daughter-in-law.
Violet and Joachim were elected to the Rajya Sabha and the Lok Sabha respectively in 1952, making them the first
couple in history to be elected to Parliament of the country.
Born in Udipi in the then South Canara district of the erstwhile Madras Presidency on January 21, 1907, Joachim
played an important role in the freedom struggle. Violet was born in Ahmedabad [Images] on April 24, 1908.
They met in Bombay's Government Law College and married on November 20, 1932. However, Violet died in 1969, marking the end of a great partnership.
Together, the Alvas fought for independence, played a key role as lawyers and edited journals.
Joachim was the founder-editor of Forum magazine which he published along with Violet. The magazine became a platform for patriotic Indians to write without fear and put across the Indian point of view in times of the British rule.
Image courtesy: Rashtrapathi Bhavan