Home > India > News > First Look


Discuss |
Email |
Print | Get latest news on your desktop


Soon under Belgaum forest cover: China, India hand-in-hand

Vicky Nanjappa in Bengaluru | November 20, 2008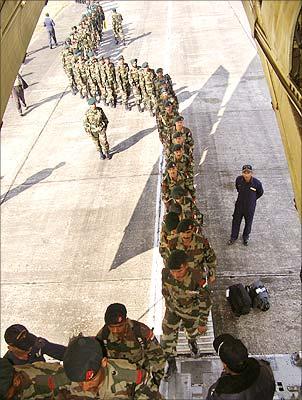 The second Sino-Indian joint training exercise, 'Hand in Hand', will be held at Belgaum, Karnataka between December 8 and 14, Army sources told rediff.com.
A 100-member strong troop comprising officers and soldiers of the People's Libration Army will visit India to take part in the second Sino-Indian Joint Training Exercise.
Currently a delegation of the Indian Army [Images] is working out the modalities in China for this exercise. Army sources say the delegation will finalise the preparations for training arrangements for the exercise and other aspects.
This exercise is being conducted in accordance with the Memorandum of Understanding on exchange and cooperation in the field of defence, signed between India and China in 2006.
The first Sino-Indian Joint Training Exercise was conducted last year at Kunming, South West China last year.
The exercise will deal with jungle warfare. The first exercise in China was based on counter terrorism and saw the participation of an armed reconnaissance company of the PLA and an equivalent strength of the Indian troops.
During the first exercise, both the Armies participated in various drills like establishment of a joint command post, joint battle decision making and conduct of anti terrorism drills.
The reason for the Army to choose Belgaum for this exercise is because this place in Northern Karnataka is because of the forest cover. Another reason is because of the ample space available and also this town borders the Maratha Light Infantry Regimental Centre.
Moreover, the place that has been chosen in Belgaum is secluded and away from the public eye. Besides, additional forces which can support in administration will be readily available.
Even as Belgaum gears up to host this event, the Indian Army has already decided on the next event.
Sources said the next event would involve US forces. Although the place for the exercise is yet to be decided the Army has confirmed that the Indo-US exercise will be held between January 6 and 14 next year.
Image: Indian troops on their way to Kunming before last year's joint exercise with China.