Home > India > News > First Look


Discuss |
Email |
Print | Get latest news on your desktop


The arrest and release of Raj Thackeray

November 15, 2008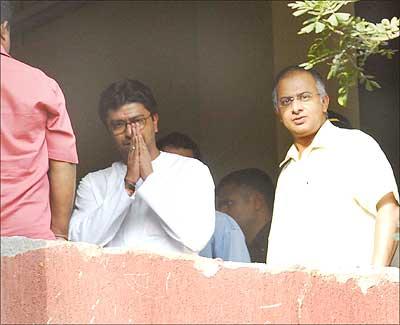 In a relief to Maharashtra Navnirman Sena chief Raj Thackeray [Images], a local court on Saturday turned down a plea for his transit remand to be produced in a Jamshedpur court for allegedly inciting violence against north Indians and ordered his release on a personal bond.
Amid tight security, Raj appeared in the Mazgaon Sessions Court in connection with the non-bailable warrant issued by the Jamshedpur court, asking him to appear before it by November 17.
'It's too late to contain Raj Thackeray'
The sessions court, however, released the MNS chief on personal bond of Rs 50,000, saying Raj had been booked under bailable offences only.
The court refused to grant transit remand of Raj to the prosecution, saying the required documents have not been submitted by Jamshedpur authorities.
 Raj Thackeray should revisit his past
Following today's court decision, Raj would not be required to appear before the Jamshedpur court by the November 17 deadline.
"He can file exemption in that case in the Ranchi high court next week", the sessions court said.
Image: Raj Thackeray at the Mazgaon Sessions Court
Photograph: Arun Patil