Home > India > News > First Look


Discuss |
Email |
Print | Get latest news on your desktop


The Tricolour on the moon

Vicky Nanjappa | November 14, 2008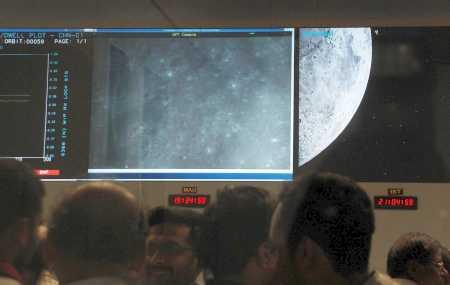 India is officially on the moon. After a couple of tense moments, the Lunar Impact Probe which was launched by the Chandrayaan planted the Tricolour on the moon at 8.31 pm.
The mood was upbeat at Bangalore after the Indian tricolour marked it presence on the moon on Friday night after having flown 3,86,000 km from the earth.
India becomes the fourth nation after the US, Russia [Images] and ESA to have the national flag painted on the moon. The moment of pride was very obvious at the ISRO Telemetry, Tracking and Command Network at Peenya, Bangalore.
ISRO CHIEF UPBEAT
Madhavan Nair, ISRO chief, had tears in eyes and said, "India can achieve anything. It sure is a proud moment for us. He further said that the Moon [Images] Impact Probe had impacted at the designated point at 8.31 pm near the Schakleton crater. The impact probe was released from the Chandrayaan was released at 8.06 pm from the equator of the moon. The 20-20 dream has been realised and Chandrayaan-2 and an Indian man on the moon will be galvanised."
ABDUL KALAM OVER THE MOON
Dr. A P J Abdul Kalam, former President of India, whose idea it was to plant the Indian flag on the moon, was seen punching his fist in happiness.
"India has the flag on Mount Everest [Images] and now it is on the moon. I congratulate ISRO on this remarkable achievement," he said.
A beaming project director Mylswamy Annadurai said, "The impact probe crash-landed on the moon's lunar surface and disintegrated. But the fact is that we have made an impact with the tricolor.The tricolor which is now successfully painted on the moon, was painted on all sides of the 29-kg Moon Impact Probe and was attached to the main orbiting spacecraft, Chandrayaan-1."
THREE MAJOR PAYLOADS
The impact probe weighing 29 kg was riding piggyback on the top deck of the main orbitter and was released at a predetermined time after the orbiter reached the final 100 km orbit and impacted at the designated location. The main objectives of this mission comprise design, development and demonstration of technologies required for impacting a probe at a desired location on the moon. Qualify technologies required for future soft landing missions and exploration of the moon from close range.
The moon impact probe comprises three major payloads. They are the radar altimeter, video imaging system and mass spectrometer.
The Radar Altimeter will measure the altitude of the moon impact probe above the lunar surface and qualify technologies for future landing missions.
The video-imaging system which comprises of an analog CCD camera along with a video decoder will acquire images of the surface of the moon from the descending probe. The Mass Spectrometer will measure the constituents of tenuous lunar atmosphere during descent.
Image: Scientists witness the release of the Moon Impact Probe.  Photographs: KPN Photos
ALSO READ: