Email |
Discuss | Get latest news on your desktop



In history, Nehru is to be compared with Napoleon

November 13, 2008
Among all of India's prime ministers, Jawaharlal Nehru remains the most fascinating and the most discussed.

Little wonder that no other Indian prime minister has had so many books written about him. Nehru, A Contemporary's Estimate, a fascinating book by Walter Crocker, an Australian diplomat who served in India during the 1950s, provides rare insights into Nehru, the man, his political style and his mind, through a very personal and interesting account.

Crocker served two stints in India as Australian high commissioner and previously served in India as an officer of the British army in World War II. He died in 2002. During his time in India he watched Nehru closely. 'He (Nehru) was interesting because of his political importance, but still more interesting because of himself,' he wrote.

Written after Nehru's death in May 1964, this previously out of print book has just been re-published by Random House India. On the occasion of Nehru's 119th birth anniversary on November 14, Rediff.com presents an exclusive two-part extract from the book with the publisher's permission. Illustrated with rare photographs from the Aditya Arya archive.
---
The dominant impression left on a person meeting Nehru for the first time would be aesthetic -- his elegance. He was always well dressed, not foppishly but in good material, cut well, worn well, and usually adorned with a rosebud in his buttonhole; the whole matching his good looks and the grace with which he bore himself.

Up until the last year or two, when his health was failing, there was little of the old man about him. He never got slovenly. The elegance was more than just clothes; more even than the good breeding which was an inseparable part of him.

His manners were punctilious and his courtesy fine. He was scrupulous in such things as not keeping people waiting, or seeing them to the door. There was, doubtless, some acting, there usually is some acting in civilized living, and, still more, in political leadership.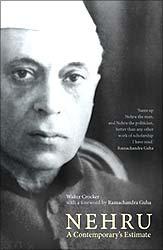 Nehru certainly did some acting on public occasions and before the TV cameras; but never much. The acting was never worse than the pose of Cha Cha (Uncle) Nehru with the children. This was at its worst on his birthday for a few years when sycophants organized groups of children, with flowers and copious photographing, to parade with him. It was out of character; his interest in children was slender. But his acting was on the periphery of his personality. He did not fake.
Excerpted from Nehru, A Contemporary's Estimate by Walter Crocker, Random House India, with the publisher's permission. Price: Rs 250.
Buy the book today!
Photographs: Aditya Arya Archive Kulwant Roy Collection
Also read: Nehru and the root of India's problems
Available: Books on Nehru at Rediff Books!