Home > India > News > First Look


Discuss |
Email |
Print | Get latest news on your desktop


Rajni's take on Gita lands him in trouble

Aravindan in Chennai | November 06, 2008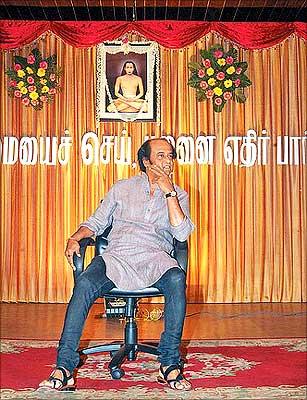 The banner as the backdrop of the dais at Sri Raghavendra Kalyana Mandapam, where superstar Rajnikanth [Images] met his fans on November 3, read Kadamai Sei; Palanai Edhirpaar, meaning 'one should not only discharge one's duty but also expect some rewards for it'.
Whether his fans got any reward for carrying out their duties, Rajini's proclamation promptly fetched some 'rewards' immediately. As per some newspaper reports, some Hindu organisations have reacted strongly to this message saying that this was in sharp contrast to what Lord Krishna preached in the 'Bhagwat Gita'; the Gita said, Kadamai Sei; Palanai Ethirpaarkathae'  (discharge your duties but don't expect any rewards). These organisations say that the superstar has tampered the Holy verses to suit his own interests.
The superstar, a devout Hindu, is known as much for his religious sojourns to the Himalayas as for his passion for acting. 
Rajini's 'version' of the Gita seen on the dais was probably be a ploy by the superstar to pacify his ambitious fans, who have been demanding that he launch a political party. While he made no such promise to the fans, he has made them believe that he might take the decision after finishing his current project Endhiram.
The Hindu organisations have said that unless Rajni tenders a personal apology, they would hold protests outside his Poes Garden residence. 
Image: Rajnikant with the controversial poster in the background