November 04, 2008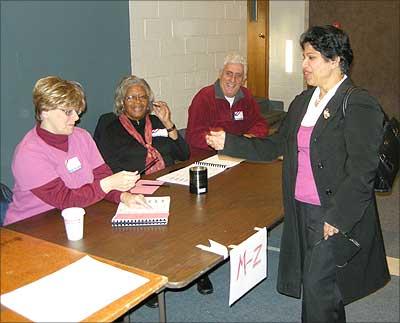 Aney Paul, a Democratic Party leader in Rockland County, New York, went to the polling booth as soon as the voting began on Monday.
She says that most Indian Americans prefer to vote at the evening as, "people go for work as usual in the morning and go for voting in the evening."
Paul, a Democrat, has been voting for the last 20 years. She is confident that Democratic presidential candidate Barack Obama [Images] will win the election. "In Spring Valley, we have a party in the evening. We will stay through the night, till the results are announced," she said.
Paul, a registered nurse at Nyack Hospital, was one of the seven nurses honoured with an Excellence in Practice Award at the Nurse Recognition Day ceremony in 2007.
Americans begin voting in presidential polls
Nurses across the county had nominated 44 of their peers for the award. A committee of experts then looked for specific examples of excellence by the nurses in areas of leadership, research and interaction with peers and patients.
Paul was honoured for her work as a maternity nurse at Nyack Hospital. "Nursing is a wonderful profession," she said.
Obama begins with a bang, wins Dixville Notch
Paul had also received the Dr Vijaya Kumar Gujral Award for the Most Efficient and Sympathetic Nurse for her work in an Indian hospital from then prime minister Indira Gandhi [Images] in 1980.
She holds a masters degree in nursing and public health. A pediatric nurse practitioner, she also has a degree in health administration. She had begun her nursing career in India with a diploma in the subject.
South Asians swing to Obama in Ohio
She is also an instructor at the Rockland Community College. She serves as New City Library's Trustee Board, an elected post.
Image: Aney Paul (right) at the voting booth