May 20, 2008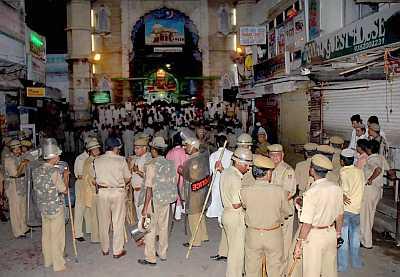 On October 12, 2007, Khwaja Mohiuddin Chisti's shrine, popularly known as the Ajmer dargah, was targetted.
Coverage: Terror hits Ajmer Dargah
The investigation process went on the lines of the Hyderabad blasts. Finally, the cops came to the conclusion that the blasts at Hyderabad and Ajmer were carried out by the same outfit-HuJI.

Both, Rajasthan police and Hyderabad police tied up to conduct the investigation. So far no concrete evidence has emerged out of the case, except for a SIM card that was used in the mobile phone to trigger of the blasts.

There were similarities in the operations carried out at the Mecca Masjid and the Ajmer Dargah. The police said the SIM cards used in both the blasts were purchased by the same person from Noida, Uttar Pradesh.
Both Rajasthan and Hyderabad cops say the cases are interlinked and that they are working together on it. But the fact remains that this case is still an unsolved mystery.

Image: Paramilitary personnel outside Khwaja Mohiuddin Chisti's dargah on Thursday.
Photograph: AFP/Getty Images