May 10, 2008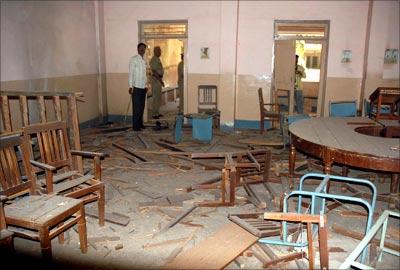 The blast at the Hubli court on Saturday sent shock waves across Karnataka, but the people of Hubli can consider themselves lucky as there were no casualties reported.
A senior lawyer at Hubli, who inspected the court premises along with the police, explained to rediff.com the impact of the blast. He said that the blast occurred at 1:27 pm as the clock which had fallen down due to the impact of the blast had stopped working at 1:27 pm. He also said that the bomb was triggered off by a timer device.
He also said that the consequences would have been unimaginable had there been people inside the court at the time of the blast. He said the impact was so strong that the door was found at a distance of 20 feet. The windows were shattered and the chairs were broken into several pieces. He also said that there was a crack on the wall, which is crucial for the investigation. The forensic sciences experts will be able to tell the intensity of the blast through the crack on the wall.
The police are foxed as to how a person managed to enter the premises and plant a bomb, considering the fact that security was beefed up after the trial against the suspected militants arrested in Karnataka a couple of months ago had commenced in the court.
Some say it could have been planted either on Friday evening when the court was working or on Saturday morning. On Saturday morning, there were a couple of court staff members working for sometime, despite it being a holiday.
Ever since the suspected terrorists were arrested, there has been constant tension between the lawyers. Around three months back, the Hubli Bar Association had resolved not to file a vakalat in favour of these militants. However, some lawyers defied this and went ahead and took up the case of the suspected terrorists, leading to clashes between the lawyers.
Although both the police and the Intelligence Bureau are looking into the political aspect of the blast, several lawyers at the Hubli court maintain that it is an act of terror. A section of the police says that there is no harm in looking into whether a political party could have been involved as such an incident would only give them an issue. Such an incident could lead to communal clashes in the already sensitive Hubli area which again would give political parties a very strong issue to fight the election on.
However as of now all fingers point at extremist outfits. Sources say that they wanted to replicate what had happened in Uttar Pradesh, but the only difference was that they wanted no casualties, but only intended to send out a strong signal to the court. The JMFC court was to hear the case pertaining to the suspected militants on Monday.
Image: JMFC court house in Hubli where the blast occurred on Saturday afternoon.
Photograph: KPN Photos