Home > India > News > First Look


How does the PM sleep at night, asks Modi

Vicky Nanjappa | May 06, 2008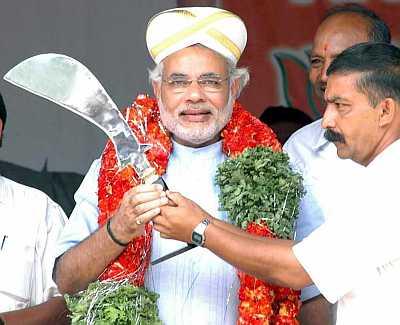 It was the turn of Gujarat Chief Minister and Bharatiya Janata Party leader Narendra Modi [Images] to enthrall the people of Karnataka on Tuesday.
Modi addressed a 6000-strong crowd in Bangalore on Tuesday night. He flayed the Janata Dal-Secular for betraying the BJP and the Congress for its 'weak' policy on terrorism.
The crowd cheered when Modi started his 45-minute speech in Kannada. BJP yannu gellisi (Ensure that the BJP wins), he told the crowd.
Modi thundered that the JD-S had betrayed the BJP in Karnataka at the last minute and such betrayers should be taught a lesson. He reminded the voters that Indira Gandhi [Images] had been punished by the electorate after she had imposed the state of emergency. "Thirty years have passed since the imposition of emergency, and no party has dared to take the same step," said Modi.
The Gujarat CM took on the Congress in the second half of his speech. Terrorism had reached its peak during the Congress regime because of the United Progressive Alliance government's 'weak' policy, claimed Modi.
While accusing the Congress of not doing anything about rising cases of terrorism, he also took a dig at Prime Minister Manmohan Singh [Images]. Reacting to Dr Singh's statement after the failed Glasgow bombings -- that he could not sleep at night thinking about Dr Haneef's plight in Australia -- Modi quipped, "How is it that the Prime Minister gets sleep when we lose so many jawans to terrorism every day?"
He said that Karnataka has become a hub of terrorist activity ever since the UPA took over at the Centre. The failed Glasgow bombings had its roots in Karnataka. Similarly, the state was the centre of the activities of the Student's Islamic Movement of India. The Hyderabad blasts had also been planned in Karnataka.
"This shows that a weak policy on terrorism by the Union government has made Karnataka a hub of terrorists," said Modi.
Image: Gujarat Chief Minister Narendra Modi at a rally in Bangalore on Tuesday.
Photograph: KPN Photos