Home > India > News > First Look


JK: Tibetans protest against China

March 26, 2008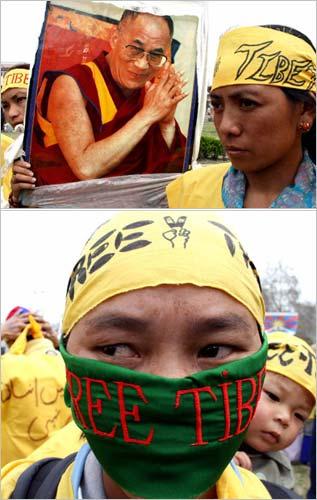 The Tibet [Images]an refugees in Kashmir on Wednesday staged protests against the Chinese action in Lhasa, calling on the international community to mount pressure on China to halt rights violations in Tibet.
Coverage: Tibet Revolts
Scores of placard-carrying protestors marched through the main market square in Srinagar [Images], after staging a sit-in at a local park.
The protestors were wearing slogan inscribed yellow robes and comprised of men, women and children.
The protestors, according to sources, had sought permission from the authorities for the silent march.
In a statement, refugees condemned the "brute force against unarmed demonstrators in Tibet".
They appealed the UN and international community to dispatch independent fact-finding delegations to Tibet and allow free press into the area.
"China is waiting to label Tibetans as terrorists and try to legitimize their crackdown internationally," it said.
Expressing solidarity with their brethren in Tibet, the statement said, "At least 135 peaceful Tibetan demonstrators have been killed, over 500 wounded and more than 1300 innocent persons detained and tortured."

Reportage: Mukhtar Ahmad | Photographs: Umar Ganie