March 25, 2008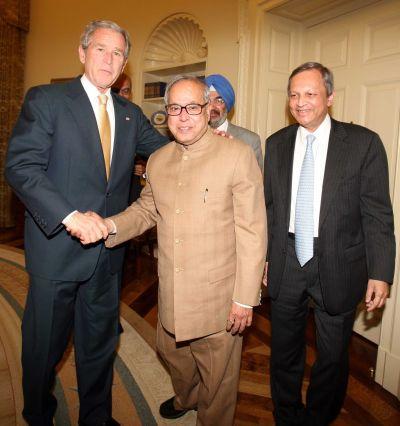 External Affairs Minister Pranab Mukherjee met United States President George W Bush [Images] at the White House in Washington on Monday and discussed the entire gamut of bilateral ties, including the civil nuclear deal.
The 35-minute meeting, held at the Oval Office on Monday afternoon, was described as one in which the atmosphere was said to have been excellent and cordial.
Bush and Mukherjee are said to have exchanged not only pleasantries but also discussed the width and depth of the United States-India relations that included the civilian nuclear initiative.
Specific details of the meeting have not been made available to the media. Mukherjee is expected to describe them first hand at a press conference on Tuesday.
"You will know tomorrow from the minister" was all that a senior official would say when asked about the details of the Mukherjee-Bush meeting.
Apart from the minister, the Indian delegation at the Oval Office included Ambassador of India Ronen Sen, Foreign Secretary Shivshankar Menon, Deputy Chief of the Indian Mission Raminder Singh Jassal and the Joint Secretary (Americas) of the Ministry of External Affairs Gayatri Kumar.
Present with Bush were his Secretary of State Condoleezza Rice [Images] and his National Security Advisor Stephen Hadley.
Yet another critical meeting that took place on Monday was the one-on-one dinner between Rice and Mukherjee, in which the two top functionaries are supposed to have gone much beyond their brief interaction at Foggy Bottom earlier in the morning.
During the media interaction, both Rice and Mukherjee said that their morning meeting was basically confined to regional issues of interest to the two sides and that a lot more was slated to be discussed in the evening, including the civilian nuclear initiative.
"We will continue to work on that agreement," Rice said at her morning interaction after meeting Mukherjee.
"The Indians are now in a process of working with the International Atomic Energy Agency and we will follow that progress and we will have further discussions on that matter," she added.
Mukherjee is visiting Washington for the first time in his capacity as the External Affairs Minister.
Image: US President George W Bush with External Affairs Minister Pranab Mukherjee and Indian Ambassador Ronen Sen.
Photograph: Jay Mandal