Home > India > News > First Look


Fehmida Mirza is Pak's first woman speaker

March 19, 2008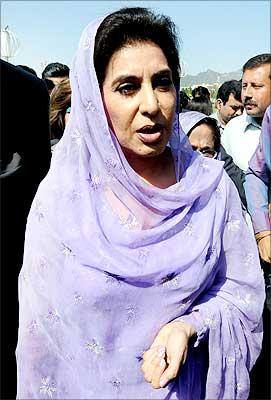 Paksitan's People's Party nominee Fehmida Mirza, a loyalist of slain former Premier Benazir Bhutto, was on Wednesday elected the first woman Speaker of Pakistan's National Assembly, the lower house of Parliament.
51-year-old Mirza, who has been thrice elected to Parliament, won 249 of the 324 votes cast by the newly-elected members of the National Assembly.
The secretary of the National Assembly or lower house accepted her nomination papers. Mirza was widely expected to win as PPP and its allies -- PML-N, Awami National Party and Jamiat Ulema-e-Islam -- have a majority in the National Assembly.
Mirza is a medical graduate and hails from a political family of Sindh province. She is the wife of Zulfiqar Mirza, a member of the Sindh provincial assembly and a close aide of PPP co-chairman Asif Ali Zardari.
Image: Fehmida Mirza. Photo: AFP Photo