Home > India > News > First Look


Left has no moral right to rule Bengal: Mamata

Indrani Roy Mitra in Nandigram | March 14, 2008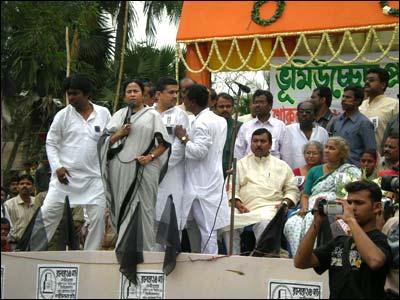 "I can forget my name, but not Nandigram [Images]," said Trinamool Congress chief Mamata Banerjee in her inimitable style, punctuated with familiar histrionics as she addressed a huge gathering at Adhikaripara in Nandigram, on Friday morning.
Honouring the victims and their families one year after the violence in Nandigram, Banerjee said, "The Left Front government of West Bengal has no moral right to rule. It has failed to do its prime duty - protecting the fundamental rights of the people".
"The so-called peace, which the Left Front government claims, has been 'restored' in Nandigram doesn't exist," said Banerjee. "An undercurrent of violence exists in the area and still affects the residents to a large extent," she added.
"A sense of fear still looms large in the minds of the people. Those who deny this, hide the truth. The 'rulers' can afford to do that but not us," she said.
"With Panchayat polls round the corner, chief minister Buddhadeb Bhattacharjee is trying to win over the people of Nandigram by promising them a better future. But can he please share with us what his plans are?" asked the TMC supremo.
"How does he propose to console the near and dear ones of those killed last year? After what has happened, can we rely on his words?" she asked.
Vowing to carry on her 'war against injustice', the TMC chief stated that a rally would be organised in Kolkata later in March to pay tribute to the 'martyrs of Nandigram'.
Banerjee also sought immediate intervention of the Centre in tracing hundreds of people who went missing from Nandigram after the March 14 incident.
"They are no VIPs; they are our kin, our blood. It is our birthright to know if they are dead or alive. Why has the government still not been able to bring those 'guilty' to book? On behalf of the people of Nandigram, I demand justice. Let the guilty be punished and the victims compensated," she said.
One of the 14 bodies recovered from Nandigram after the March 14 violence is yet to be identified.
The TMC chief said that it was a shame that even after a year, the government hasn't finished drawing up a complete list of the dead and the injured.
Banerjee appealed to the people of Bengal to observe March 14 as martys' day. "Let us give a clarion call to the nation to stand by us. Let us all unite to pay respect to the grit and fearlessness of our protest against police atrocities," she said.
Apart from Banerjee, others present at the Nandigram gathering included social activist Medha Patkar and information and broadcasting minister Priyaranjan Dasmunsi.
Image: Trinamool Congress chief Mamata Banerjee addressing a gathering at Adhikaripara in Nandigram, on Friday morning. Social activist Medha Patkar shares the dais with her.
Photograph: Dipak Chakraborty
Coverage: Violence Rocks Nandigram