Home > India > News > First Look


Asma Jahangir meets Bal Thackeray

March 11, 2008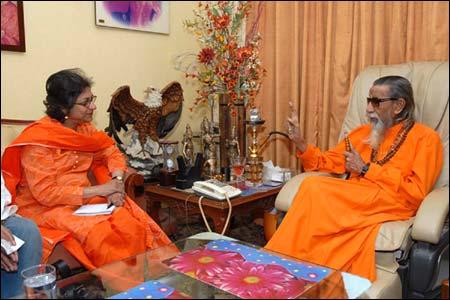 Noted Pakistani lawyer and human rights activist Asma Jahangir on Tuesday met Shiv Sena chief Bal Thackeray in Mumbai and discussed issues relating to communal violence.
Jahangir, chairperson of Human Rights Commission of Pakistan, is preparing a report for the United Nations on violence relating to religion for which she is meeting various persons. She had met Gujarat Chief Minister Narendra Modi [Images] on Monday.
Jahangir asked Thackeray to define religion and why he 'provoked' people on the basis of religion, Shiv Sena sources said.
Thackeray, whose party has been linked to communal violence in Mumbai in the past, replied that he never provoked anyone in the name of religion but only 'reacted' to provocation by others, the sources said.
Jahangir, appointed Special Rapporteur of the UN Commission on Human Rights in 1998, has spent most of her career defending the rights of women, religious minorities and children of Pakistan.
She is also part of the lawyers' movement launched in Pakistan after the sacking of their Chief Justice Mohd Ifteqar Chowdhary in March last year.
Reportage: PTI | Photograph: Arun Patil

Also Read: When PM apologised to Asma Jahangir