March 06, 2008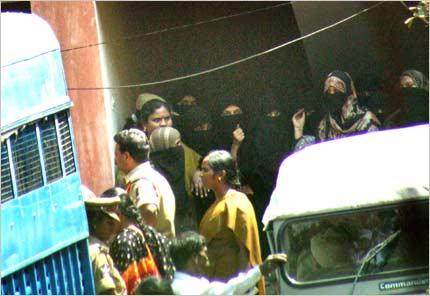 The Hyderabad police arrested 24 women for ransacking the Saidabad police station in the Old City area on Wednesday night following the arrest of a Muslim youth in connection with pending criminal cases.
City Police Commissioner B Prasada Rao said the youth, Mohtasim Billah, was arrested in a rioting case registered against him in Saifabad police station for participating in the attack on a Gujarat police team near the AP Director-General of Police's office in 2004.
Billah was also wanted in connection with a conspiracy case registered in Gopalpuram police station for possessing seditious Jihadi literature and compact discs. The police booked six cases against him, including an attempt to murder case and a case of stone-pelting on the East Zone DCP in 2004. 
Incidentally, the arrest of Billah and the subsequent attack on the police station took place hours after the city police brought Riazuddin Nasir, a city-based terror suspect, from Karnataka where he was arrested in January this year, on prisoner's transit warrant.
Nasir is the fourth son of Maulana Naseeruddin, an important functionary of Tahrik Tahaffuz  Shariah-e-Islami (TTSI).
Incidentally, Mohtasim Billah is the younger bother of Mujahid Saleem, who was killed by the Gujarat police team for resisting the arrest of Maulana Naseeruddin at the DGP's office. The Maulana was arrested in connection with former Gujarat Home Minister Haren  Pandya's murder case in Ahmedabad. Billah and Mujahid's father Maulana Abdul Aleem Islahi runs a madarsa.
On Wednesday, the city task force and Special Investigation joint team picked up Billah, a 21-year-old engineering student against whom two non-bailable warrants were pending, from his house. A couple of hours later, a group of burqa-clad women, led by family members of Billah, stormed and ransacked Saidabad police station demanding the release of the arrested youth. They raised slogans in protest against the arrest.
Image: Snaps India ; Text: Syed Amin Jafri in Hyderabad
Photo: Women being taken away by the police after they attacked the police station.