Home > India > News > First Look


McCain wins Republican presidential nomination

March 05, 2008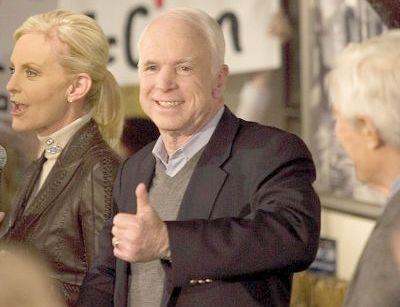 Arizona Senator John McCain has won the Republican presidential nomination, surpassing the magic number of 1,191 delegates as voters in Ohio, Vermont, Rhode Island and Texas put him over the threshold.
President George W Bush [Images] will appear with McCain in Washington DC to greet and proclaim the 72-year-old Arizona lawmaker as the conservative torch-bearer of the presidential showdown on November 4, 2008.
Top Democratic candidates, Senator Barack Obama and Senator Hillary Rodham Clinton, are still slugging it out in the big ticket states of Ohio and Texas; and the concern in the Democratic camp is of Senator McCain having a huge advantage in terms of organising his own strategy and campaign as the Democratic rivals continue to trade barbs.
Senator McCain still does not have an easy ride within the traditional conservatives of the GOP and has a lot of convincing to do.
McCain's rival former Arkansas Governor Mike Huckabee pulled out of the race, saying, "I extended to him not only my congratulations, but my commitment to him and to the party to do everything possible to unite our party."
Image: Senator John McCain acknowledges the crowd along with wife Cindy before a town hall meeting at Goode Company Barbeque in Houston, Texas.
Reportage: PTI | Photograph: Dave Einsel/Getty Images