Home > India > News > First Look


Chatwal to raise $10 million for Obama

Aziz Haniffa in Washington, DC | June 27, 2008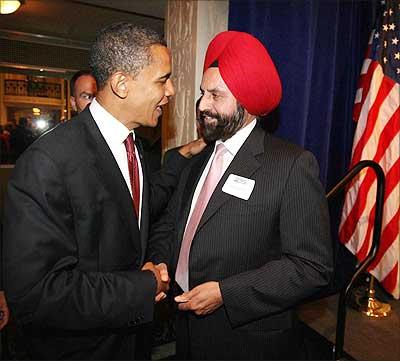 Sant Chatwal, millionaire hotelier and close friend and fund-raiser for the Clintons for several years, has assured Democratic presidential nominee Barack Obama [Images] that the Indian American community will raise over $10 million for his campaign to win back the White House. Chatwal was introduced to Obama by Senator Hillary Clinton [Images] at a private meeting between them and Clinton's top donors at the Mayflower Hotel in Washington, DC on June 26. 
 
Chatwal told rediff.com that at the meeting, "Obama, myself and Hillary spent five minutes together, and now we have all basically endorsed Obama." This was the first meeting between Clinton and Obama after she endorsed him as the Democratic presidential nominee on June 7.
"We will be doing the biggest fund-raiser for Obama," he said, and added, "Hillary will be there, either at the end of July or beginning of August. We are going under the same banner of Indian American Democratic Committee, which was earlier Indian Americans for Hillary Clinton for President, '08."
 
"Obama told me, 'Mr Chatwal, my office has been trying to reach you, and I said, 'I was waiting for the order from my boss (Senator Clinton), and now, I got it,' and I said, 'I am going to hold the biggest fundraiser you have ever seen in your life.'"
 
"Obama replied, 'I believe it, I know, my chair of the Finance Committee says if you want Indian Americans, get a hold of Sant Chatwal'.
 
"So we are going to do it. We will raise over $10 million for the Obama campaign," Chatwal said.
 
He reiterated that he had told Obama, "Senator Obama, now that Hillary has given the order, I will go forward and we will do the biggest fundraiser in the history of America."
 
Obama told him, "Mr Chatwal, I love India, I don't know much about India, I want to learn, I want to meet you more, I want to understand, I want to visit, and I said, 'Fine, whatever the promise I am making, I am doing everything for India and Indian Americans who live in this country."
 
Expressing confidence that he can raise the amount he had promised Obama, Chatwal said, "We've already given Hillary $7-8 million -- I am talking about the total money combined, pulling every Indian American together all over the United States."
 
The private meeting between Clinton and Obama and Clinton's top donors -- which will be followed on June 27 by a public meeting in Unity, New Hampshire -- followed an e-mail sent by the national finance director for Clinton Jonathan Mantz, announcing the Clinton-Obama meeting and inviting top donors and fund-raisers like Chatwal for the meeting at the Mayflower.
 
Mantz wrote, "As we move forward, we invite you to join us for a National Finance Committee meeting with both Hillary Clinton and Barack Obama on Thursday, June 26 in Washington, DC to discuss how we can work together to support Barack Obama and the Democratic Party."
 
At this private meeting, as a symbolic gesture, Obama wrote a cheque for $2,300 -- the maximum a person can contribute to a particular candidate -- to the Clinton campaign to help Clinton retire her campaign debt, which is in the red for over $20 million.
 
At the meeting, Clinton's national campaign director and former Democratic National Committee chairman Terry McAuliffe introduced Clinton, who in turn introduced Obama to her supporters.
"This was a hard-fought campaign, and that's what made it so exciting and intense and why people's passions ran so high on both sides. I know my supporters have extremely strong feelings and I know Barack's do as well. But we are a family and we have an opportunity now to really demonstrate clearly what we do know what's at stake and we will do whatever it takes to win back the White House," she said.
 
Obama told Clinton's supporters, "I am a better candidate as a consequence," of his contest with Clinton. "I cannot think of a more important test than the two of us and all of us working together to continue the battle that she kept fighting."
 
He also spoke of how his grandmother, now 86, who raised him, had spoken about the admiration and respect she had for Clinton and her role in empowering women and shattering the glass-ceiling on their behalf.
Image: Senator Barack Obama with Sant Chatwal in Washington DC on June 26.
Photograph: Snapsindia