June 27, 2008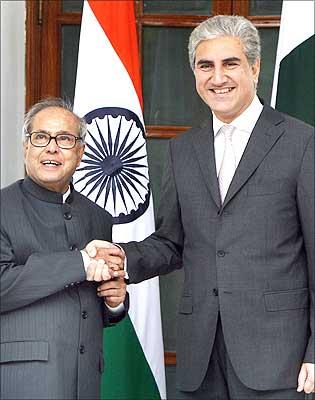 Prime Minister Manmohan Singh [Images] has formally accepted Pakistan's invitation to visit that country.

An announcement in this regard was made by Foreign Minister Pranab Mukherjee after his meeting with his Pakistani counterpart Shah Mohammad Qureshi, who is currently visiting India.

"His visit to Pakistan has been long overdue," Quresh said.

Mukherjee said though the prime minister has accepted the invitation to visit Pakistan, no date has been fixed for the trip.

Pranab and Qureshi, who had a long discussion soon after the latter arrived in India on Friday morning, listed a number of issues, including the India-Pakistan-Iran gas pipeline that would solve the energy issues of the three nations concerned.

"Rising prices have an adverse impact on our economies, particularly when both India and Pakistan heavily subsidise the costs. As far as securing the gas pipeline from terrorists is concerned, rest assured, we know how to use force effectively.

"We have tackled a complicated issue like the water dispute between the two nations. We have to find out how serious India is in dealing with the pipeline problem. I am meeting Indian Petroleum Minister Murli Deora in this connection," Queshi said in response to a question.

Pranab also spoke about the threat posed by terrorism and said both the countries have to be 'unambiguous' in fighting the menace.
"Terrorism is a threat to the stability of our respective democratic frameworks. Whatever be our political differences, we have to be unambiguous in addressing terrorist threats," Mukherjee said.
Qureshi said there is 'virtual consensus' on the peace process and that 'we should not miss on this opportunity'.
The political environment to make the peace process result-oriented is "right" on both sides, he said.

"Governments have to show political will and they have to give leadership" to resolve these issues, he said adding that political parties in both countries were supportive of the peace process.
The fifth round of Composite Dialogue will be held in New Delhi on July 21 and 22 where Jammu and Kashmir [Images] issue, peace and security and confidence building measures will be discussed, Mukherjee said.
Qureshi said it was in the 'mutual interest' of India and Pakistan to maintain ceasefire.
He said 'serious thoughts' should be given to 'outstanding' issues that need consideration.

Image: External Affairs Minister Pranab Mukherjee with his Pakistani counterpart Makhdoom Shah Mahmood Qureshi ahead of their meeting in New Delhi.
Reportage: Onkar Singh with Agency inputs | Photograph: Raveendran/AFP/Getty Images