Home > India > News > First Look


Baby Lakshmi's remarkable recovery

June 17, 2008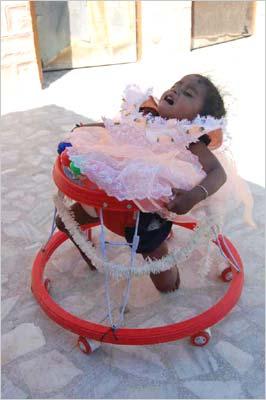 Two-year-old Lakshmi Tatma uses a baby walker at her home in a village on the outskirts of Jodhpur, Rajasthan. 
Lakshmi, who was born with four arms and four legs, has recovered remarkably after her extra limbs were removed through a 27-hour long surgery in Bangalore last November.
She was born in Araria village in Bihar, was treated as a goddess by villagers, who wanted to build a temple for her. However, for the doctors she was an ischiopagus conjoined twin. One of the twins was headless and had two pairs of arms and legs and was separated during surgery.
She has delighted her family and doctors with her recovery. She now attends a special school for disabled children. She will need additional surgery on her spine and feet.
Photograph: AFP/Getty Images