Home > India > News > First Look


Amarnath yatra begins; check the roadmap

June 17, 2008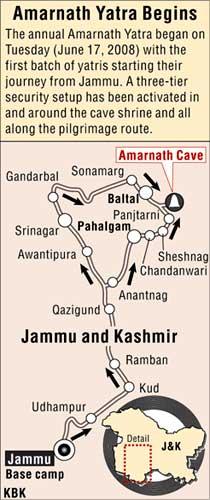 Amid chanting of religious hymns and tolling of bells, the annual Amarnath Yatra began on Tuesday with the first batch of 2,837 pilgrims starting their journey from Jammu to the cave shrine in south Kashmir, protected by a three-tier security ring.
The convoy of the pilgrims, escorted by vehicles carrying Central Reserve Police Force (CRPF) personnel, was flagged off by Jammu and Kashmir [Images] Minister for Higher Education G S Charak at around 0500 hours.
The yatris -- 1,846 men, 778 women, 174 children and 67sadhus -- left in 59 buses and 29 light carriers from the newly-constructed Amarnath Yatri Bhawan at Bagwati Nagar area of the city.
 The first batch would have 'darshan' at the cave shrine on Wednesday.
"With the blessing of the Lord Shiva [Images], I have flagged off the first batch of pilgrims. Elaborate security measures have been taken and arrangements for board and lodging have been made by the government," Charak said..
"The three-tier security setup has been activated in and around cave shrine, base camps in Jammu, Pahalgam and Baltal and eating and halting points along the pilgrimage route from Lakhanpur (Kathua) to Amarnath," security officials said.
The security system consists of area domination and setting up of mountain posts by contingents of the army and the CRPF besides mobile patrolling by armed police.
 The CRPF has deployed 50 companies comprising 6,250 men and officers while the army has set up 97 area domination posts in and around the cave shrine in Lidder valley of south Kashmir Himalayas, besides Pahalgam and along the route in
Anantnag, Ramban and Udhampur districts.
Of the 50 companies of CRPF, 37 would be deployed in Kashmir valley on Baltal-Amarnath and Pahalgam-Amarnath routes and 13 in Jammu and Kathua belts for Amarnath Yatra security, officials said.
Two women's battalions will also be deployed.
The CRPF has set up four disaster management camps in and around Amarnath shrine with 400 beds and life-saving equipment, the officials said.
Over 5,000 pilgrims and 330 sadhus have arrived in Jammu for onward journey to the shrine.
 Over 2,04,000 pilgrims have been registered for the Yatratill now at various branches of Jammu and Kashmir Bank across the country.
Charak hoped that this year's Yatra would be peaceful and incident-free.
"We expect the largest number of pilgrims to seek darshan at the holy cave shrine," he said.