Krishnakumar P in Jaipur | June 6, 2008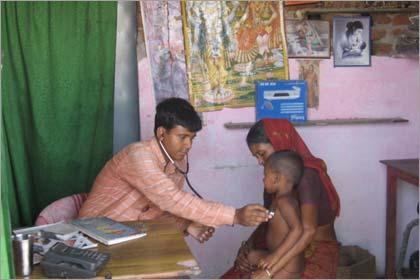 Bachelors of Indo-Allopathic Medicine would probably be among the few educational qualifications that throw up just one result in a Google search -- a matrimonial ad for a girl with the said qualification.
That also probably explains why Dr Pappu Haldar, 24, does not want to speak much about his educational qualification. Dr Haldar, who hails from North 24 Pargana district in West Bengal, is a doctor in a slum of some 5,000 people in Jaipur, most of whom are illegal Bangladeshi immigrants.
How did Dr Haldar end up in a place on the other side of the country? And a slum of illegal immigrants at that. It was not at all with the lofty aim of serving the downtrodden, the candid doctor is quick to admit. After he graduated from a Kolkata college, he found it difficult to find a job in the many hospitals he applied.
"There was no opportunity there and I wanted to get out of that place. I chose Jaipur for two reasons. One I have a cousin here and I thought it would be easier for me to come and live with him as I set up my practice," he says before adding: "And the important reason was that Jaipur being a hot place would have more diseases and cases than other parts of the country."
Dr Haldar came to Jaipur in 2003 and settled down at his cousin's home. "I practiced from a small place next to where we lived. That was when I heard about this slum and I was told there were no doctors here," he said.
Next in the series: Diary of a successful Indian
The fact that there were quite a few people from West Bengal and everyone spoke Bengali convinced Haldar to set up a clinic in the slum.
"You won't believe it, but the day I came here and opened a tiny makeshift place, there was a huge fire and I lost everything.
"I borrowed some money from my cousin and bought a few medicines and equipment to start from the scratch," he said.
From there, it was hard toil for Dr Haldar to reach where he is -- a 6 feet-by-6 feet room in the basti itself. "I don't feel like going anywhere. I will stay here and earn whatever is possible. I am comfortable here. I sleep here in the room. My needs are basic and I have everything that I want here. In fact I am going to buy a house in the Jaipur Development Authority approved building there," he said pointing to the row of houses opposite the clinic.
Dr Haldar charges Rs 20 per sitting as consultation fees. If there is someone in need of a dose of drips, it will cost them Rs 120. He even has stocked a few medicines that are exclusively for times of emergency for patients whose history he knows.
In his clinic, Dr Haldar has two diaries. One is a case diary with the names of almost all the residents of the slum and the other contains their dues and debts. No prizes for guessing which one is fatter and why. "Everyone -- I mean every single one of them -- owes me money. But I can't deny them treatment," he says.
Has the doctor lost his business acumen in five years?
"I was only being honest when you asked why I came here. It is not that I am after money only. I make up to Rs 8,000 a month even with these dues. So I don't mind writing these off. I can't ask an ailing man for past dues when it is clear he does not have money," says Dr Haldar, who is one of the few people who is beyond the slum's politics.
There is a divide in the basti between the Bangladeshis and those who are from Bengal. They do not see eye to eye. But the doctor is beyond all that and nobody messes with him.
In fact, an intelligence agency officer who has been tracking events and personalities in the slum for two years and often hangs out at the doctor's clinic, predicted the day after the Jaipur serial blasts that the police would come to the doctor for help in telling the Bangladeshis apart from the migrants from West Bengal. "He is a respected man and his word will carry weight. He is beyond suspicion and will have to help in the verification process," the officer said.
And true to his prediction, the police came. So did the media and Dr Haldar had his 15 minutes of fame. The days following the blasts, the laidback doctor had assumed the role of an activist. He wanted to know if Ananda Bazaar Patrika had a journalist based in Jaipur. "Now, it is my responsibility to ensure that the people from Bengal are treated properly. The police should not harass them unnecessarily. I will have to do something and get our government to know the plight of the migrants and do something for them," he says.
All in a day's work for a man who came here only because he thought hot place = more diseases = better business.
Photograph: Krishnakumar P
Earlier in the series: Why K R Babu is happy with inflation No electricity, phone or TV and lions as neighbours The exorcism of Nandai