Home > India > News > First Look


Discuss |
Email |
Print | Get latest news on your desktop


An all-woman day at Rashtrapati Bhavan

July 24, 2008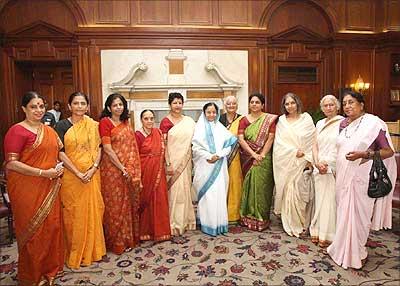 President Pratibha Devisingh Patil had an interaction with a group of eminent women at Rashtrapati Bhavan [Images] on Thursday. 
The eminent women were Professor Amita Singh (Educationist), Justice (Retd) Smt. Leela Seth (Former Chief Justice of Himachal Pradesh), Dr. Vijayalakshmi Ravindranath (Scientist, Professor), Dr. Ranjana Kumari (Women's Welfare), Smt. Prema Cariappa (Social Welfare), Dr. (Smt.) Mohini Giri (Social Welfare), Smt. Tesse Thomas (Scientist), Dr. (Smt.) Kapila Vatsyanan (Member of Parliament and Scholar), Smt. Tara Gandhi Bhattacharjee (Social Worker) and Dr. (Smt.) Shyamalha Pappu (Lawyer).
This is the first ever meeting held by a President with a group of eminent women.
The President said that women played an important role in our Freedom Movement and in the post Independence era, they have begun to make a mark on national life especially through the Panchayati Raj Movement, which is a landmark.
Image courtesy: Rashtrapati Bhavan.
Also Read: Children's day out at Rashtrapati Bhavan