Home > India > News > First Look


Discuss |
Email |
Print | Get latest news on your desktop


Day after: Left, Maya and UNPA announce national campaign

July 23, 2008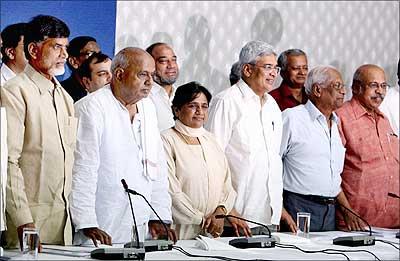 The Left, the United National Progressive Alliance and the Bahujan Samaj Party on Wednesday said that they will launch a nation-wide campaign against the United Progressive Alliance government on the Indo-United States nuclear deal, price rise and agrarian issues and described the trust vote win in Lok Sabha as 'immoral'.
"The UPA government might be patting itself for whatever happened on Tuesday. But at the same time, it is the defeat of the democracy," BSP supremo Mayawati told a press conference after a breakfast meeting with leaders of the Left parties, Telugu Desam Party, Telanagana Rashtriya Samiti, Rashtriya Lok Dal and Janata Dal - Secular among others.
Reading out from the statement adopted at the meeting, Communist Party of India- Marxist General Secretary Prakash Karat [Images] said, "The UPA government may have won the vote in the Lok Sabha yesterday but has lost the trust of the nation in the immoral manner in which it has engineered this win. The Manmohan Singh [Images] government has lost its moral
authority. All the political parties present decided to launch a national level campaign on pressing issues before the people.
The statement was adopted by leaders of ten parties -- BSP, TDP, Forward Bloc, Revolutionary Socialist Party, Janata Dal -Secular, RLD, Indian National Lok Dal, Jharkhand Vikas Morcha, Communist Party of India and CPI-M.
The campaign will be launched against price rise, inflation, agrarian crisis leading to farmers suicides, Karat said.
"We are also against the Indo-US nuclear deal, against communal forces, against gross misuse of government institutions like the Central Bureau of Investigation," the CPI-M leader said.
Bahujan Samaj Party leader and Uttar Pradesh Chief Minister Mayawati (C) poses with Telugu Desam Party chief Chandrababu Naidu [Images] (L), Janata Dal-S leader Deve Gowda (2-L), CPI-M chief Prakash Karat (3-R) and CPI leader AB Vardhan (2-R) after a press conference in New Delhi on July 23, 2008.

Photograph: Prakash Singh/AFP/Getty Images