Home > India > News > Report


Discuss |
Email |
Print | Get latest news on your desktop

For old Congress hand, a 1 am wake-up call

A Ganesh Nadar in New Delhi | July 21, 2008 14:37 IST

Dhanushkodi Athithan is nonchalant over the United Progressive Alliance's July 22 trust vote.

Maybe his 18 years as a Member of Parliament, including a Cabinet stint with the United Front, have taught him that governments may come and governments may go, politics goes on forever.

And the Congress MP from Tirunelveli, Tamil Nadu, admits for all their sound byte fury, the speeches in the debate leading up to the trust vote will not sway any last-minute friends.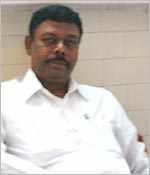 "It is a chance for the leaders to let their views be known to the people of the country," he says.
Maybe nonchalance is too strong a word. For Athithan did leave home at 1 am on Saturday morning to reach Thiruvananthapuram at 5 in the morning -- to reach Delhi earlier.
He was told the previous evening that the party needed him in Delhi pronto. He reached on time to attend Sonia Gandhi's [Images] meeting with her MPs.
"She told us that we had to remain united in this hour. She also told us that when we went back we should explain the nuclear deal to the people. We must tell them how important it is to us and that the deal will fulfill all our power needs in the future. And how crucial power is for the development of the country."
He insists the prime minister's dinner for the government's supporters at the Ashok hotel on Sunday night was not political.
"There were no speeches. All our MPs and our supporters came to express solidarity," he says, waving his artificial hand, the result of a car accident last year.
He declares that the Congress MPs will remain united. He brushes aside talk that some party members oppose the deal and that a few question the desperate alliance with the Samajwadi Party.
On Monday, at 10 minutes to 11, Atithan left for the Lok Sabha. The Congress will need his experience, and his vote.
Photograph: A Ganesh Nadar
Email |
Print | Get latest news on your desktop