Home > India > News > First Look


Discuss |
Email |
Print | Get latest news on your desktop


Former Sena MP gets one-year for '93 Mumbai riots

July 09, 2008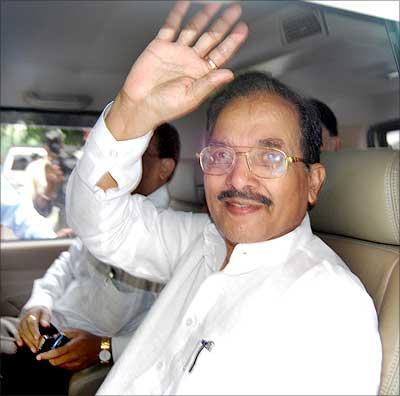 Former Shiv Sena Member of Parliament Madhukar Sarpotdar and two other party activists were sentenced to one year simple imprisonment by a Mumbai city court on Wednesday in connection with the 1992-93 communal riots.
Magistrate R C Bapat Sarkar convicted Sarpotdar and two Shiv Sainiks -- Ashok Shinde and Jaywant Parab for giving inflammatory speeches and for inciting violence between two communities.
The trio have been sentenced to one-year simple imprisonment along with a fine of Rs 5,000 each.
They were, however, later granted bail on a bond of Rs 5,000 each till August 16 after which they will be taken into custody. The three will appeal before the Bombay high court against the conviction.
The court, however, acquitted three other accused in the same case. The acquitted persons are: Umesha Pawar, Pradeep Khanvilkar and Shantaram Sadvantar.
Sarpotdar, Shinde and Parab have been held guilty under section 153 (A) of the Indian Penal Code, relating to giving inflammatory speeches and causing enmity between two religious groups.
On December 27, 1992 Sarpotdar had allegedly led a mob of 5,000 persons from the Ganesh Utsav Samiti Mandal in suburban Kherwadi area.
After being convicted, Sarpotdar said he is ready to face the imprisonment and is not afraid to go to jail. "The prosecution has not produced any evidence against me but I will read the whole judgement and then appeal against it," he said.
According to the prosecution, the mob had chanted anti-Muslim slogans and held placards that read, "Terror of Shiv Sena is the only saviour for mankind," leading to stone pelting in the area.
Six witnesses -- five police officials and one sanctioning officer-had deposed against Sarpotdar and the other accused.
The prosecution further argued that the procession was to gain political mileage under the garb of religion and it violated the order of the police commissioner, restricting the assembly of more than five persons for security reasons.
The investigating officer Madhav Khanolkar during his deposition identified Sarpotdar as the one who was leading the mob.
"The assembly of around 5,000 persons led by Sarpotdar was to gain political mileage under the garb of religious procession," Khanolkar told the court.
Sarpotdar's lawyer, Jaiprakash Bagoria, however, argued that it was just a religious procession and that Sarpotdar had not made any speech against Muslims.
Except Khanolkar, all the other four police officials who had deposed before the court had said they do not remember the exact details of the incident, as it had occurred 16 years ago.
Former MLC, Umesha Pawar, who was acquitted said after 16 years, justice has prevailed.
"All of us have been falsely implicated in the case and no inflammatory speeches were made by any of the leaders present there," Pawar told PTI.
Image: Sarpotadar arriving in court. Photograph: Arun Patil