Home > India > News > First Look


Discuss |
Email |
Print | Get latest news on your desktop


PM meets UN general secretary

July 08, 2008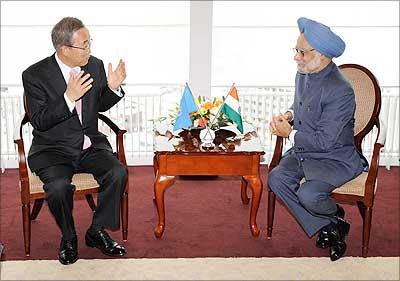 Prime Minister Manmohan Singh [Images], who arrived in Japan [Images] on Monday to attend the G-8 summit, met UN Secretary General Ban Ki-moon to discuss various issues listed on the summit's agenda, including the climate change which tops it.
Later, the Prime Minister held a 30-minute dialogue with Chinese President Hu Jintao to seek his support for Indo-US nuclear deal in the International Atomic Energy Agency (IAEA) and the Nuclear Suppliers Group (NSG).
Although the Prime Minister has not stated when India would go to the Vienna-based nuclear watchdog for concluding the safeguards agreement, media reports said the IAEA board of governors is meeting on July 28 where business is likely to be taken up.
Once India gets the agreement stitched up with the IAEA, the country's case will go to the nuclear suppliers group for waiver to enable the country get nuclear fuel supplies and high-end technology.
Image:  Ban Ki-Moon and Manmohan Singh during the meeting  in Japan on Tuesday;  Photograph:  TORU YAMANAKA/AFP/Getty Images