July 07, 2008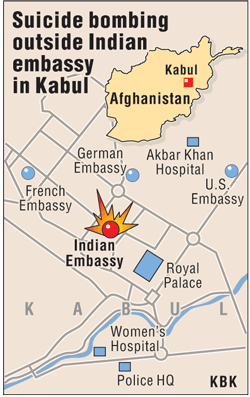 Four Indians among forty-one people were killed in a suicide blast near the Indian embassy in Kabul on Monday.
The suicide bomber exploded two embassy vehicles as they were entering the premises, sources said, the intensity of the blast blowing off the gates of the embassy. Some buildings inside were also damaged in the blast.

Four Indian nationals were killed the suicide attack, Indian Ambassador Jayan Prasad said.
India is rushing a high-level team, headed by Nalin Surie, secretary (west) in the Ministry of External Affairs, to Kabul to assess the "emergency" situation there.
Defence Attache Brigadier R D Mehta and Counsellor Venkateswara Rao were killed when the suicide bomber targeted the embassy early on Monday morning, External Affairs Minister Pranab Mukherjee told reporters in Delhi.
The two other two Indians killed in the attack were identified as Indo Tibetan Border Police personnel Ajai Rathore and Roop Singh.
A fifth employee of the Indian Embassy Niamutullah, killed in the blast, was a local Afghan.
In the wake of the suicide attack, a high-level meeting was called in New Delhi by Mukherjee to discuss the situation.
Mukherjee deliberated with Defence Minister A K Antony and senior officials of the external affairs ministry about the situation, sources said.
The meeting was called soon after the suicide attack.
Meanwhile, India on Monday strongly condemned the terror attack at its embassy in Kabul and asserted that such "cowardly" acts would not deter it from fulfilling commitments to the government and people of Afghanistan.
"We are in touch with the ambassador who is supervising arrangements for medical assistance," External Affairs Ministry spokesman Navtej Sarna said in a statement.
"The government of India strongly condemns this cowardly terrorist attack on its diplomatic mission in Afghanistan," he said.
"Such acts of terror will not deter us from fulfilling our commitments to the government and people of Afghanistan," the spokesman said.
About 3,000 Indians are working on various reconstruction and developmental projects in Afghanistan and they have often been subjected to attacks by Taliban.
Image: KBK Graphics