January 26, 2008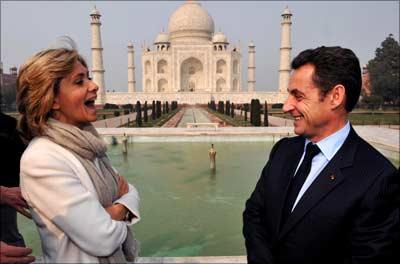 The Taj Mahal [Images] was "fabulous! Fantastique!" French President Nicolas Sarkozy told rediff.com at the Rashtrapati Bhavan [Images] on Saturday evening. When rediff.com asked him if the Taj was all that it was made out to be, President Sarkozy exclaimed, "Much more than that!"
Breaking protocol, President Sarkozy interacted with guests at the At Home hosted by President Pratibha Patil [Images] on the occasion of Republic Day. He signed autographs, shook hands and also repeatedly emphasised how impressed with the Taj Mahal he was when quizzed by the guests. However, he would not comment on whether his girlfriend Carla Bruni [Images] accompanied him.
President Sarkozy's late arrival from Agra [Images] -- he flew to the city after attending the Republic Day Parade at which he was the chief guest -- delayed the commencement of the At Home by over 20 minutes.
Vice President Hamid Ansari, Prime Minister Manmohan Singh [Images], Lok Sabha Speaker Somnath Chatterjee, Chief Justice of India K G Balakrishnan and United Progressive Alliance chairperson Sonia Gandhi [Images] were all seated before President Sarkozy and his delegation made their appearance.
For the guests, the diminutive French leader was something of a rock star as they vied to shake his hand and get his autograph, some of them urging Sarkozy to have better relations with India.
Image: French President Nicolas Sarkozy shares a laugh with French Minister for Higher Education and Research Valerie Pecresse in the gardens of the Taj Mahal on Saturday.
Photograph: Philippe Wojazer/AFP/Getty Images