Home > News > First Look


Dr Singh visits Olympic village in Beijing

V S Chandrasekar and Ragavendra in Beijing | January 13, 2008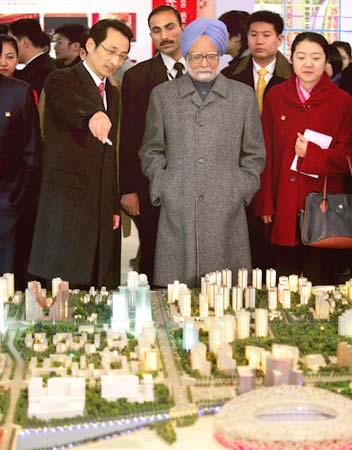 Prime Minister Manmohan Singh [Images] on Sunday got a glimpse of China's preparations for the summer Olympics [Images]. He also met an Indian business woman who has been chosen among the eight foreigners to carry the Olympic torch on Chinese soil in August next year.
In his first engagement, soon after a tiring overnight flight from New Delhi, he visited an exhibition at the Olympic village showcasing the facilities for the Games, to be held from August 8 to 24.
"On behalf of the government and the people, I extend my best wishes for the success of the Olympics," Singh wrote after spending about 30 minutes at the village.
"I hope that the Olympic spirit and the traditional hospitality and warmth of the great city of Beijing [Images] will promote friendship, peace and understanding among all the participants and the countries they represent," he said.
Singh's visit to the Olympic village comes as India plans to bid for hosting the world's most prestigious sporting event in the future.
It was also a proud moment for Meena Barot, who will carry the Olympic torch, as she met the Prime Minister and spoke to him.
Barot, a business manager from northern city of Shijiazhuang, is among the eight foreigners who will carry the torch for 200 metres.
She came fourth in an online poll in which some 262 people from 47 countries and regions vied for the eight slots and another 2,45,000 voted.
Totally, 1.5 million people covering a broad sweep of 156 nationalities had visited the campaign webpage, according to organisers.
At the exhibition in Olympic village, Singh keenly watched 30 models of different facilities built by China.
The Prime Minister was briefed by senior officials on the models like the 'Bird's Nest' (the main Olympics venue), 'Water Cube' (where the aquatic events will take place) and the 'Olympic Green' (the area with plants and trees) that have come up for the 2008 Beijing Olympics.
The exhibition vividly displays the Olympic venues through photographs, sand tables and literal descriptions.
Image: Prime Minister Manmohan Singh looks on as Beijing Vice-Mayor Chen Gang (left) introduces a model of the Olympic Green at the Olympic Village in Beijing, China.
Photgraph: Getty Images