February 05, 2008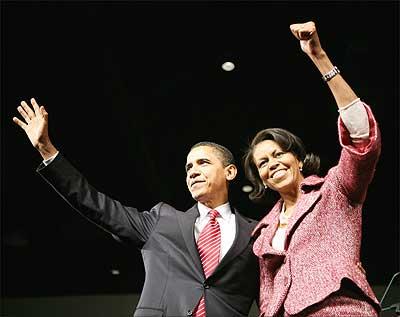 For Rushabh Doshi and his family, Tuesday's New York Democratic primary has proven a divisive event. Doshi, 31 and raised in Queens, New York, is a firm supporter of Barack Obama. His extended family and circle of 'aunties and uncles', on the other hand, are diehard Hillary fans.
"Out of morbid curiosity," he says, "I went to a Clinton fundraising event at the Sheridan Hotel (in New York City), and the Indian community alone raised around $6 million. Many people I've known since my childhood were integrally involved in the event. They just don't understand my insistence on Barack."
While Rushabh can't offer hefty donations, what he can offer is energy and intelligence. For the past few months, he has worked day and night for the Obama campaign; his efforts culminated on Saturday night at the Leela Lounge in Manhattan, at an event titled 'Bhangra for Barack'.
There, an eclectic mix of Indian nationals, Indian-Americans, Caucasians, African-Americans and more -- a group comprising roughly 100 -- came together to dance to Bhangra, discuss the issues, share laughs and sip drinks, all in the name of the junior United States Senator from Illinois, Barack Obama.
"It's a great turn-out!" says Theresa Thanjan, 35, one of the event organisers. "This encourages me, because all these people are ready for change. In my 17 years of voting, I've never been so excited about a candidate. Our country needs a fresh approach to diplomacy and foreign policy. That's what Obama offers; he's intelligent and he's a diplomat. He can bring this horribly divided nation back together".
"But what about his African heritage," I ask her. Much has been made of the Indian community's supposed unwillingness to vote for a black man.
"I don't agree at all," she replied. "The media is wrong on this point. People shouldn't just view him as a black man; they need to see him as the son of an immigrant, as someone who has lived overseas, as someone who understands minority concerns, as someone who is dedicated to comprehensive immigration reform. In that sense, the Indian community should relate to his background. I feel that if Indians learn more about him, his support in our community will continue to surge upwards," she says.
Even non-US citizens are involved, doing their part to support the campaign. Sharib Khan, who is doing research at Columbia University, has worked tirelessly on behalf of Obama, though he can't vote himself.
"In India, I've been disillusioned with politics for a long time, because I feel people are gullible and the candidates aren't genuine," he says. "But Barack made an overwhelmingly favourable impression on me when I read his first book. Then, the first time I heard him speak (at the 2004 Democratic National Convention), I was even more amazed. This year, I accompanied some friends to New Hampshire, canvassing for Obama and sharing his message. In Manchester, Obama's Election Day speech left me mesmerised, blown away. He was earnest, and discussing real change. I knew this man had the potential to put America back on track. Right then, I used Twitter to send updates to everyone I knew, urging them to get involved".
"So, is it hard to be so passionate, yet unable to vote?" I ask.
"No, because I haven't let it stop me. I actually created an Obama-centric site -- saysomethingaboutobama.com. I'm just happy to help in any way I can. Monday, I'm off to Delaware, for more canvassing."
One of the few middle-aged participants, a man who asks to remain unnamed, sits at the bar and harps on what he believes has been skewed media coverage.
"These Indian media agencies only have offices in the major cities, like Washington DC and New York. They poll the Indian-American establishment, not the college-aged and young professional crowd. So they report that Indians will vote in a landslide for Hillary, without bothering to tell the other side of the story. This," he says, waving a hand over to the energetic crowd, "is the other side to that story."
Rushabh agrees. "The Hillary supporters are small business owners, dentists and physicians. They're happy with the status quo. It's not Indians who are suffering in America right now. But where's the change? Where's the true progress? Where are the inclusive political, economic and social systems? If Indians looked a little closer, they'd see the obvious parallels between (American civil rights activist) Martin Luther King and Obama. And, of course, Martin Luther King cited Mahatma Gandhi [Images] as a major influence in his life. So, Obama and the Indian-community are on similar ideological wavelengths, if only they'd realise it!"
But Ashwani Nagpal, one of the owners of the Leela Lounge, says that the generation gulf is not as wide as has been reported. Nagpal, from New Delhi, has been in America for 20 years.
"I like Hillary, but I feel the country is thirsty for change. It's true that a lot of South Asians who were here during in the 1990's are comfortable with the Clintons," he says. "But there are also people who have been here, like me, who feel that America needs to reinvent itself. When I first heard the proposal for this event, I was ecstatic. I felt that if I could help, in any way possible, it would be an honour to do so."
But not all of the restaurant's patrons are here to support Obama. Ironically, an engagement party with roughly 20 Indian guests is also underway. The would-be couple make it clear that they do not wish to be affiliated with the Obama campaign.
"Obama is anti-outsourcing, in a big way," says the would-be groom. "It just doesn't make sense for Indians to vote for him. I think much of this rallying is just for show; because at the end of the day, the Indian contingent is overwhelmingly voting for one person, and that's Hillary. Like it or not, the Clintons are practically deified in India. Obama should turn his attentions elsewhere."
Caption: US Democratic presidential candidate Barack Obama and his wife Michelle celebrate victory in the South Carolina primary last week
Photograph: Emmanuel Dunand/AFP/Getty Images
Read more:
Hillary pledges to strengthen Indo-US ties
India matters more than ever: Hillary Clinton
Outsourcing is a problem: Hillary Clinton
McCain, Hillary win Florida primaries
Women helped Hillary beat Obama: Experts
Actor Kal Penn roots for Obama
Obama camp attacks Hillary's Indian links
Hillary pledges to strengthen Indo-US ties