Home > India > News > Graphics


Discuss |
Email |
Print | Get latest news on your desktop

JK: Low voter turnout in final phase

Mukhtar Ahmad in Srinagar | December 24, 2008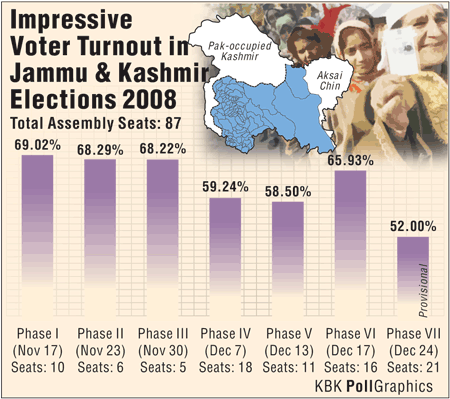 Amid heavy security and anti-poll protests, eight constituencies of summer capital Srinagar [Images] that went to polls in the last phase Wednesday recorded a low voter turnout.
Separatists had called for anti-poll protests and a boycott of the elections.
They had also asked people to march to the historic city centre, Lal Chowk for a protest sit-in.
The security forces had sealed constituencies from each other to prevent passage of people from one constituency to another.
Voters had early started coming out in twos and fours in rural belt of the voting constituencies while the old town and the uptown areas saw people staying away from polling booths.
"The city lacks basic civic amenities and we are voting to elect a new representative who will help improve them," said Nazir Ahmad, after voting at Khanyar. "Elections have nothing to do with the Kashmir issue."
The authorities had rushed in additional paramilitary, Central Reserve Police Force troopers to provide security during the elections.
All the localities were barricaded by coils of razor fitted wire and pre-fabricated barricades with the CRPF troopers carrying automatic weapons keeping vigil.
The votes cast would be taken for counting on December 28 for all the phases and the results are expected same day.
In a statement on Wednesday evening Governor N N Vohra complimented the people of Jammu and Kashmir [Images] for reiterating their faith in democracy, despite many constraints, difficulties and threats and described the high voter turnout in the just concluded seven-phase assembly elections as a clear victory of the large majority who wish the restoration of peace and normalcy.
PTI adds:
An estimated 52 per cent of the 16.54 lakh electorate exercised their franchise in the last phase.
The overall voter turnout has been put at 61 per cent, Deputy Election Commissioner R Bhattacharya said.
The turnout in this year's poll marks a sharp rise from the previous elections when an overall 43.2 per cent voting was recorded.
The highest turnout was 77 per cent in Chhamb followed by 75 per cent in R S Pura and Akhnoor and 72 per cent in Bishna and Marh.
Email |
Print | Get latest news on your desktop