Home > India > News > First Look


Discuss |
Email |
Print | Get latest news on your desktop


A solemn, emotional reopening for Hotel Trident

Vaihayasi P Daniel in Mumbai | December 21, 2008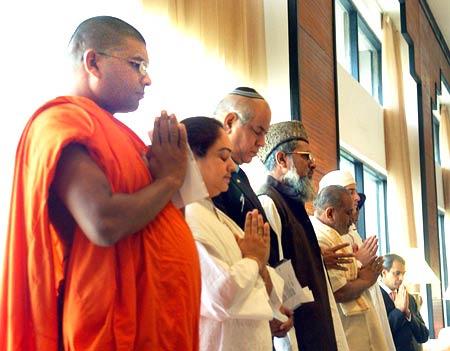 Thank you for your support.

That is the simple card I got, tucked inside the leather folder, when I asked for my bill after a short lunch at Frangipani, one of Hotel Trident's famous restaurants. A questionnaire accompanied the card.

I signaled the waiter again and requested for my bill. The courteous sari-clad hostess came over and said, "Ma'am, it is on the house. Thank you for your support."

The Trident, one Mumbai's oldest hotels, reopened on Sunday after being shut for more than three weeks since 26/11, when it
was attacked by three Pakistani terrorists with guns and grenades. In the ensuing carnage, 22 guests and staffers had been killed.

Frangipani, the all-day continental cuisine banquet area that opens first, was serving its guests by 7 am. And though the
restaurant was nearly half full at lunch -- actor and rugby player Rahul Bose [Images] was entertaining a group of friends as were a number of the invited dignitaries -- Frangipani was functioning crisply as if it was an ordinary day. Service was probably
at its best as numerous staff members solicitously hovered around and managers came across to check if diners were happy with their meals.

At noon, Maharashtra Chief Minister Ashok Chavan [Images] and Deputy Chief Minister Chhagan Bhujbal, along with nearly 100 long-term patrons and guests, gathered at the lobby of the Trident for a special multi-faith prayer meeting organised by the hotel. The guests included dignitaries like Hemendra Kothari, chairman of DSP-Merrill Lynch and Anil Madhok, former general manager of Oberoi.
They were welcomed by P K S Bikki Oberoi, chairman and chief executive, East India Hotels. Each patron/ guest received a pink rose with a card that said: "Life is a challenge, meet it! Life is a dream, realise it! Life is a game, play it! Life is love, enjoy it" - Sathya Saibaba.

The second quote was from William [Images] Ellery Channing: "Difficulties are meant to rouse, not discourage. The human spirit is to grow strong by conflict."

A Parsi priest, a Buddhist monk, a Catholic priest, a Hindu pujari, a lady Jain priest, a maula, a rabbi and a Sikh priest chanted prayers for those who had died, those who were injured, those who had assisted/saved lives. They also prayed for the hotel, the city and the country.
A hymn incorporating all faiths was sung to the accompaniment of low table and harmonium. It was a solemn, emotional ceremony and the atmosphere was somber. Waiters, housekeepers and bell boys gathered on the stairs that connect Trident with the Oberoi, the passage through which the terrorists moved between both hotels.

The chief minister quietly came across to Oberoi, shaking hands and congratulating the hotel staff.

In a grim reminder to the terrible tragedy, Hotel Trident has put in a series of security barriers beyond the hotel doors.
Guests have to alight at road level, show an ID and then enter the hotel driveway. A large X-ray machine is in place for luggage and bag surveillance, supervised by security personnel and polite bell boys.
Another security arch and bag check is conducted at the doors, before a guest walks in.
Ranjit Singh and his doorman colleagues, in their high turbans and white uniforms, who once called for your car by microphone and ushered guests to their cars, are now reduced to cordially ushering guests into the security areas.

Rattan Keswani, president of Trident Hotels, had informed the media on Saturday, "About 100 of our rooms are booked from tomorrow." He clarified that 50 to 60 were Indian guests. Occupancy by business guests is usually lowest during Christmas and New Year, Keswani said, and added that the real test for the hotel would be the growth of occupancy levels in the first week of January, traditionally the beginning of the hotel's busiest season.
"I seek help from all of you (the media) to direct your efforts in portraying Mumbai and India as a safe destination. Fears of guests and the implications of travel advisories must be allayed aggressively.  These only affect our citizens and our economic well being. We need you to help us get the travelers back," he had said.

"Our team performed its duty with valour and diligence at grave personal risk. It continues to work tirelessly to reopen Trident," he said.
The staff worked tirelessly for over three weeks to get the hotel back into the pristine condition it was in when it reopened today -- gleaming floors, shining marble and brass. Keswani said that the hotel staff wanted to make sure that no signs of the terror attack remained inside the hotel.

He added, "We must not forget the many unknown citizens of Mumbai who helped our colleagues with food, water and medicines through the events day and night.  They were unknown angels who emerged from nowhere and faded away.  I wish we could somehow thank them individually."
The Oberoi, Trident's sister hotel, has still not opened. Parts of it are boarded up. The main picture window that looks out onto the Arabian Sea has not yet been repaired. The hotel authorities could not offer a tentative date of re-opening.
Image: The multi-religious prayer meeting at Hotel Trident.